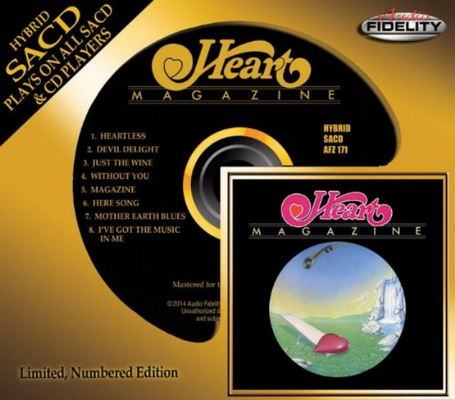 Heart – Magazine (1977) [2014, Audio Fidelity Remastered, CD-Layer + Hi-Res SACD Rip]
SACD-ISO / DSD / 1bit / 2.8224MHz
DSF Tracks / DSD / 1bit / 2.8224MHz
FLAC Tracks / 24bit / 88.2kHz
CD-Layer / EAC Rip / FLAC Image + Cue + Log
Full Scans Included
Total Size: 1.63 GB (ISO) + 1.60 GB (DSF) + 780 MB (FLAC) + 247 MB (CD-Layer) | 3% RAR Recovery
Label: Audio Fidelity | US | Cat#: AFZ 171 | Genre: Hard Rock
Update: DSF Tracks have been added
Problems with the Mushroom label delayed the release of Magazine, which eventually went platinum and peaked at number 17 on the album charts. Only the hard-rocking "Heartless" made it into the Top 40, and the album didn't really live up to Heart's last few efforts. 1976's Dreamboat Annie showed stronger songwriting, while Little Queen had a lot more bite to it. Magazine lacks in energy and, to a much greater extent, fluency. The songs sound careless and scrambled together, and while some of the blame can be placed on the label controversy, it's apparent that the Wilsons seem unconcerned, for the most part. "Here Song," "Just the Wine," and the predictable "Without You" all have weak seams in both the writing and the articulateness of the tracks as a whole. 1978's Dog & Butterfly shows more interest and rock & roll vitality than its predecessor, making Magazine an album even the band likes to forget about.
Tracklist:
01. Heartless – 05:02
02. Devil Delight – 05:01
03. Just The Wine – 04:16
04. Without You – 04:51
05. Magazine – 06:23
06. Here Song – 01:34
07. Mother Earth Blues – 06:00
08. I've Got The Music In Me – 06:19
———————-
CD LOGS
EAC | CUETOOLS
DYNAMIC RANGE
CD-LAYER | SACD-ISO | SACD-DSF | SACD-FLAC
INFO
DISCOGS
DOWNLOAD FROM
CD-Layer
LMA_HRT.1977.M.2014.AF_SACD-CD-LAYER.rar
Hi-Res SACD
LMA_HRT.1977.M.2014.AF_SACD-DSF.rar
LMA_HRT.1977.M.2014.AF_SACD-FLAC.rar
LMA_HRT.1977.M.2014.AF_SACD-ISO.rar
———————-
If you encounter broken links or other problem about this publication, please let me know and write your comment below. I will reply and fix as soon as possible.