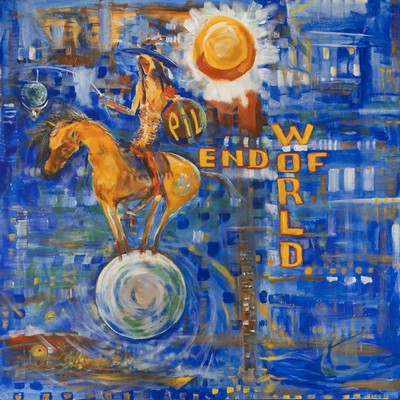 Public Image Ltd. – End Of World (2023) [CD-Quality + Hi-Res]
[Official Digital Release]
Hi-Res / FLAC Tracks / 24bit / 48kHz | CD-Quality / FLAC Tracks / 16bit / 44.1kHz
Total Size: 0.97 GB
Label: PiL Official | Genre: Indie Rock
Public Image Ltd. (PiL) announce their 11th studio album and first album in 8 years, End of World. The band began writing and recording End of World in 2018, during their 40th anniversary tour. After The Great Pause, the band regrouped in the studio and "there was just this massive explosion of ideas," Lydon says. The result finds PiL set to release 13 of the best tracks they have ever written. arlier this year, PiL released Hawaii, the most personal piece of songwriting and accompanying artwork that John Lydon has ever shared. The song is a love letter to John's wife of nearly 5 decades, Nora, who is living with Alzheimer's. A pensive, personal yet universal love song that has resonated with many since its release in January, the song sees John reflecting on their lifetime well spent and in particular one of their happiest moments together in Hawaii. Celebrating their 40-year anniversary in 2018, the band is widely regarded as one of the most innovative and influential bands of all time. PiL's music and vision has earned them 5 UK Top 20 singles and 5 UK Top 20 albums. With a shifting line-up and unique sound – fusing rock, dance, folk, pop and dub – Lydon guided the band from their debut album First Issue in 1978 through to 1992's That What Is Not, before a 17 year hiatus. Lydon reactivated PiL in 2009, touring extensively worldwide and releasing two critically acclaimed albums This is PiL in 2012 followed by their 10th studio album What The World Needs Now… in 2015, which peaked at number 29 in the official UK album charts and picked up fantastic acclaim from both press and public.
Tracklist
01. Penge – 03:04
02. End Of The World – 05:26
03. Car Chase – 03:46
04. Being Stupid Again – 04:32
05. Walls – 03:20
06. Pretty Awful – 04:51
07. Strange – 03:32
08. Down On The Clown – 04:21
09. Dirty Murky Delight – 02:29
10. The Do That – 02:38
11. L F C F – 04:36
12. North West Passage – 04:40
13. Hawaii – 03:31
———————-
LOG
DYNAMIC RANGE
DOWNLOAD FROM
CD-Quality
LMA_PIL.2023.EOW_DR_16-44.rar
Hi-Res
LMA_PIL.2023.EOW_DR_24-48.rar
———————-
If you encounter broken links or other problem about this publication, please let me know and write your comment below. I will reply and fix as soon as possible.