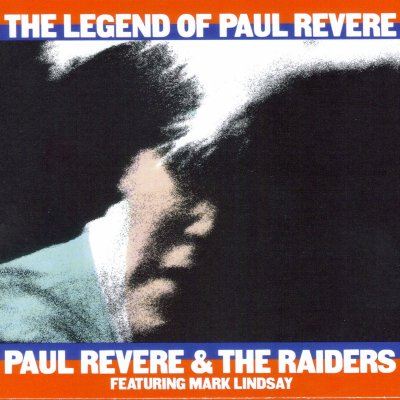 Paul Revere & Raiders – The Legend of Paul Revere (1990)
EAC Rip | 2xCD | WavPack (.wv) Image + Cue + Log | Full Scans @300 dpi, JPG
Total Size: 909 MB (CDs) + 15.7 MB (Scans) | 3% RAR Recovery
Label: Columbia / CBS | Cat#: C2K 45311 | Genre: Pop Rock
This double-CD set presents a real conundrum, on a lot of levels. For starters, on its face, 55 songs may well seem like overkill to the casual fan who only knows or remembers (or thinks they only remember) five or six big hits by Paul Revere & the Raiders. And there are more modest single-CD collections to be found on this band that seem less daunting. But as it turns out — for those who give this set a try — Paul Revere & the Raiders did have just enough hits, when coupled with a sufficient number of respected album tracks and B-sides, to sustain a double-CD set. And that goes double for anyone who likes plain old rock & roll — even when this band got ambitious and a little bit progressive and serious, they never lost sight of the value of a great beat and carefully placed vocal and instrumental hooks, and they were always fun. The truth is, whether it was the classic lineup playing frat rock or an early-'70s version of the band delving into more complex songs, these guys delivered high-quality music across a decade, from 1964 through 1974, and it's all represented here. And amazingly, this was the first Raiders compilation to include "Indian Reservation," the group's only number one hit, or to place it alongside their earlier round of hits, so that one can hear their progression from Pacific Northwest dance rock to smoothly professional AM pop/rock, absorbing elements of the British Invasion, garage punk, and psychedelia along the way.
And the funny thing about this collection is that it came about through a series of accidents and misconceptions. Back when Columbia Records' U.S. division first got into the compact disc marketplace in the late '80s, it had reissued the 1967-vintage 11-song Raiders' Greatest Hits album as a budget CD (one of the first such low-priced releases in the digital format). The latter had sold well but also elicited a large number of letters, and vociferous articles in the music magazines of the time, complaining about both the sound quality on the CD and the fact that there were only those 11 Raiders' songs out on CD, which didn't really reflect the group's output or even their full range of hits. During the period that followed, Columbia became Sony Music and the "Legacy" imprint, devised to exploit the company's vintage music holdings, was established. The Legend of Paul Revere was among their earliest releases on that line — and, ironically enough, it never did sell the way it was anticipated; as it turned out, the hundreds of letters (so it was reported by someone close to the project) complaining about the budget Greatest Hits CD weren't the tip of an iceberg, as was assumed, but the whole iceberg; additionally, there were further complaints about the double-CD set's use of remixes on various single tracks that had only ever appeared in mono, and other instances of tampering with the group's classic recordings. In the end, it seemed as though The Legend of Paul Revere was a failure — except that it has kept selling across almost 20 years (and is still in print as of 2009), and remains the most comprehensive collection ever done on the band. And it did serve as something of a dry run for subsequent Legacy ventures involving the Byrds and other acts from Columbia's past, which were done differently and more to the satisfaction of fans, precisely because of what the company learned from this release. And even if you forget the back-story, this is still 150 minutes of big fun.
Reviewed by Allmusic
Additional Info:
• Released Date: April, 1990
Disc 1:
01. Beatnick Sticks – 02:12
02. Like, Long Hair – 01:56
03. Midnite Ride – 02:32
04. Slippin' and Slidin' (Remix) – 02:25
05. Louie, Louie – 02:43
06. Night Train – 02:55
07. Louie – Go Home – 02:43
08. Have Love Will Travel – 02:33
09. Over You – 02:13
10. Whole Lotta Shakin' Going On (Remix) – 03:03
11. Hi-Heel Sneakers (Remix) – 02:47
12. Searchin' (Remix) – 02:32
13. Don't You Just Know It (Remix) – 03:36
14. Irresistable You (Remix) – 03:10
15. Maybelline (Remix) – 02:29
16. Ooh Poo Pah Doo (Remix) – 02:46
17. Sometimes (Remix) – 02:30
18. Steppin' Out (Remix) – 02:15
19. Blue Fox (Remix) – 02:29
20. Just Like Me (Remix) – 02:26
21. Action – 01:29
22. SS 396 (Remix) – 02:28
23. Corvair Baby (Remix) – 02:15
24. Kicks (Remix) – 02:28
25. Shake It Up (Remix – 04:03
26. Hungry (Remix) – 02:54
27. The Great Airplane Strike (Remix) – 02:56
28. Good Thing (Remix) – 03:02
29. Ups And Downs – 02:49
Disc 2
01. Legend of Paul Revere – 03:07
02. Him or Me – What's It Gonna Be? – 02:40
03. I Had a Dream – 02:18
04. Peace of Mind – 02:40
05. Too Much Talk – 02:15
06. Happening '68 – 01:46
07. Don't Take It So Hard – 02:41
08. Cinderella Sunshine – 02:02
09. It's Happening – 02:44
10. Judge GTO Breakaway (Remix) – 02:44
11. Mr. Sun, Mr. Moon – 02:45
12. Let Me – 02:40
13. We Gotta All Get Together – 03:00
14. Just Seventeen – 03:51
15. Gone Movin' On – 02:37
16. Indian Reservation (The Lament of the Cherokee Reservation Indian) – 02:53
17. Birds of a Feather – 02:39
18. Country Wine – 02:31
19. Powder Blue Mercedes Queen – 03:02
20. Song Seller – 03:32
21. A Simple Song – 02:58
22. Love Music – 03:42
23. (If I Had It To Do All Over Again, I'd Do It) All Over You – 02:45
24. Tobacco Road (Remix) – 03:31
25. Angels of Mercy – 03:30
26. Chain of Fools – 03:47
[su_accordion]
[su_spoiler title="EAC Logs" icon="plus-square-1″ style="fancy"]
[su_spoiler title="EAC Log Disc 1″ icon="plus-square-1″ style="fancy"]
Click Here[_/su_spoiler]
[su_spoiler title="EAC Log Disc 2″ icon="plus-square-1″ style="fancy"]
Click Here[_/su_spoiler]
[/su_spoiler]
[su_spoiler title="CUETools 2.1.5 Logs" icon="plus-square-1″ style="fancy"]
[su_spoiler title="CUETools 2.1.5 Disc 1″ icon="plus-square-1″ style="fancy"]
Click Here[_/su_spoiler]
[su_spoiler title="CUETools 2.1.5 Disc 2″ icon="plus-square-1″ style="fancy"]
Click Here[_/su_spoiler]
[/su_spoiler]
[su_spoiler title="Back & CD label" icon="plus-square-1″ style="fancy"]
[/su_spoiler]
[/su_accordion]