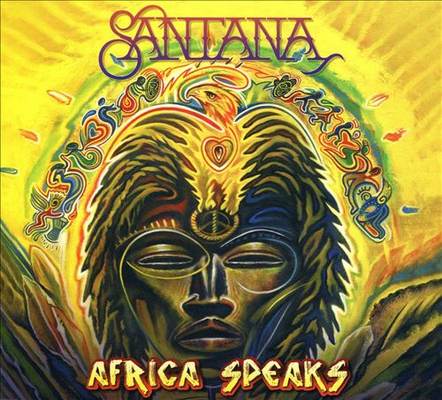 Santana – Africa Speaks (2019)
EAC Rip | FLAC Tracks + Cue + Log | Full Scans Included
Total Size: 471 MB | 3% RAR Recovery
Label: Concord Records | EU | Cat#: 00888072090842 | Genre: Pop Rock
No matter the numerous musical terrains Santana have traversed since the late 1960s, their trademark Afro-Latin sound is so recognizable it often dominates the band's material. Not here; on Africa Speaks that sound is just one among many — some tunes here are almost unrecognizable as Santana). Produced by Rick Rubin, Africa Speaks was compiled from a whopping 49 songs, all recorded over ten days at Shangri-La in Malibu — many in a single take — most inspired by African melodies and polyrhythms. Throughout, the Santana octet is on fire, fronted by Spain's inimitable force of nature Concha Buika, a singer, songwriter, poet, and producer. She is so versatile, she's been nominated for Latin Grammys in several genres, and is equally adept at flamenco, jazz, soul, funk, and Anglo-Latin and Afro-pop.
Conga drums introduce Carlos' brief spoken narration to the title cut; his stinging guitar joins with Buika's pained modal moan in Andalus flamenco style in an improvised percussion-rippled interlude. A walloping Afro-Cuban bata rhythm precedes "Baytonga" before the band kick in with biting guitar riffs, Benny Reitveld's whomping bass line, Cindy Blackman Santana's rolling tom-toms (this set provides some of the finest drumming in her long career), and Karl Perazzo's congas. Buika, Andy Vargas, and Ray Greene chant as a choir countering David K. Mathews' fiery piano montunos toward a cascading crescendo. Driving, unfettered, bass-wrangling Afro-Latin funk fuels "Oye Este Mi Canto" and the single "Los Invisibles" as Buika's forceful vocals exhort, plead, and declare (the former also offers a scorching Mathews B-3 solo). Buika is a rock singer on "Yo Me Lo Merezco," as entwined guitar leads, fingerpicked chords, and the straight-on 4/4 rhythm section plod morphs to halve its time signature, becoming an unfettered jam where Carlos and Rietveld play head to head. (Look for it to become much longer live.) Laura Mvula guests on the simmering jazz-blues nocturne "Blue Skies," trading verses with co-composer Buika. "Breaking Down the Door," is a humid cumbia with Buika and a chorus relating a murder ballad while indicting patriarchy and class division. It's adorned by trombone breaks and accordion fills. "Luna Hechicera," is another fusion tune where rumba, jazz, and funk commingle and writhe as exquisite instrumental dialogues occur under Buika's soulful singing. "Bembele" is a Latin jazz groover that finds Carlos quoting from "Song of the Wind" (off 1972's Caravanserai) in his solo, with Buika's expressive vocal soaring and swooping in time to the rhythm section.
Africa Speaks is breathtaking in terms of energy and scope of vision. Here, the Santana band are — more than at any time since the mid-'70s run of Caravanserai, Welcome, Lotus, and Borboletta — a rangy, intense, restless, and musically hungry outfit aware of their potential. Africa Speaks is the surprise of 2019, the album Carlos has been desiring to make for decades but was unable to given contract restrictions — Concord offered complete artistic freedom. He, Buika, and the Santana band made the most of it. ― Allmusic
Tracklist
01. Africa Speaks – 04:48
02. Batonga – 05:43
03. Oye Este Mi Canto – 05:59
04. Yo Me Lo Meresco – 06:13
05. Blue Skies – 09:08
06. Paraísos Quemados – 05:59
07. Breaking Down The Door – 04:30
08. Los Invisibles – 05:55
09. Luna Hechicera – 04:48
10. Bembele – 05:52
11. Candombe Cumbele – 05:37
———————-
CD LOGS
EAC | CUETOOLS
INFO
DISCOGS
DOWNLOAD FROM
LMA_SNTN.2019.AS.rar
———————-
If you encounter broken links or other problem about this publication, please let me know and write your comment below. I will reply and fix as soon as possible.