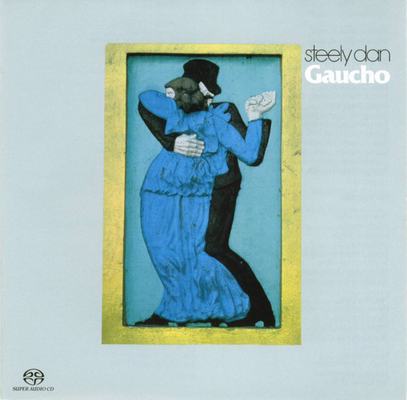 Steely Dan – Gaucho (1980) [2003, Remastered, CD-Layer & Hi-Res SACD Rip]
EAC Rip | FLAC Image + Cue + Log | Full Scans Included
SACD Rip | ISO @1bit/2.8224MHz, DSD64 | FLAC Tracks @24bit/88.2kHz | Stereo & Multichannel
Total Size: 269 MB (CD-Layer) + 2.35 GB (SACD ISO) + 2.68 GB (SACD FLAC) | 3% RAR Recovery
Label: EMI | EU | Cat#: 0602498605103 | Genre: Jazz Rock
Gaucho is the seventh studio album by the American jazz rock band Steely Dan, released on November 21, 1980 by MCA Records. The sessions for Gaucho represent the band's typical penchant for studio perfectionism and obsessive recording technique. To record the album, the band used at least 42 different musicians, spent over a year in the studio, and far exceeded the original monetary advance given by the record label.
During the two-year span in which the album was recorded, the band was plagued by a number of creative, personal and professional problems.[4] MCA, Warner Bros. and Steely Dan had a three-way legal battle over the rights to release the album. After it was released, jazz musician Keith Jarrett threatened the band with legal action for writing credit on the title song "Gaucho".
Gaucho marked a significant stylistic change for Steely Dan, introducing a more minimal, groove and atmosphere-based format. The harmonically complex chord changes that were a distinctive mark of earlier Steely Dan songs are less prominent on Gaucho, with the record's songs tending to revolve around a single rhythm or mood. Gaucho proved to be Steely Dan's final studio album before a 20-year absence from the recording industry.
Tracklist:
01. Babylon Sisters – 05:54
02. Hey Nineteen – 05:10
03. Glamour Profession – 07:32
04. Gaucho – 05:32
05. Time Out Of Mind – 04:14
06. My Rival – 04:34
07. Third World Man – 05:14
INFO
DISCOGS
DOWNLOAD FROM
CD-Layer
LMA_StDa.1980.G.2003.R_SACD-CD-Layer.rar
Hi-Res SACD
LMA_StDa.1980.G.2003.R_SACD-FLAC-Mch.part1.rar
LMA_StDa.1980.G.2003.R_SACD-FLAC-Mch.part2.rar
LMA_StDa.1980.G.2003.R_SACD-FLAC-Stereo.rar
LMA_StDa.1980.G.2003.R_SACD-ISO.part1.rar
LMA_StDa.1980.G.2003.R_SACD-ISO.part2.rar
LMA_StDa.1980.G.2003.R_SACD-ISO.part3.rar
———————-
If you encounter broken links or other problem about this publication, please let me know and write your comment below. I will reply and fix as soon as possible.