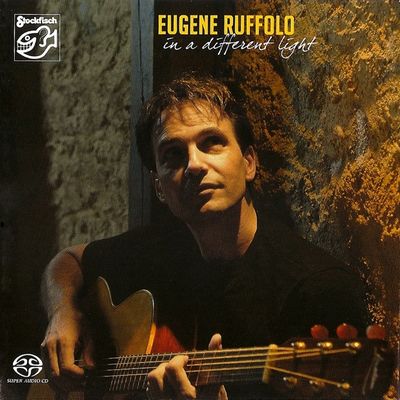 Eugene Ruffolo – In A Different Light (2005) [Hi-Res SACD Rip]
SACD-ISO / DSD / 1bit / 2.8224MHz
FLAC Tracks / 24bit / 88.2kHz
Total Size: 3.43 GB (FLAC) + 2.99 GB (ISO) | 3% RAR Recovery
Label: Stockfisch Records | Germany| Cat#: SFR 357.4044.2 | Genre: Country, Folk, World
The critics say: "Stockfisch Records has always been renowned for its talent to select the best of the best. With Eugene Ruffolo, Günter Pauler and his Knights of the Sound Table have chosen a world-class singer-songwriter to appear on their label. in a different light, his new album to be released on Stockfisch, is sure to reach as many hearts as ears."
With Eugene Ruffolo from New York, Stockfisch has chosen a world class singer-songwriter to appear on the label. Ruffolo's fabulously intense musicality is reminiscent of many an artist, especially of Marc Cohn.
Growing up outside of New York City, the son of a fashion designer and passionate classical guitarist, Eugene was immersed daily in his father's music. Ruffolo's own guitar sounds big and warm, its interplay with exceptional guitarist John Jennings masterfully recorded and of lucid beauty.
His lyrics prove Ruffolo to be not only an avid scholar of literature, but also a poet himself. Without ever erring towards kitsch in the slightest degree, his songs are tasteful miniatures dealing with the time-honored subject of all poets love and its many splendoured ways be it lost love remembered (When we were kings), the love of one's home town (For a look at you) or love celebrated in the hymn-like Beyond Love.
Tracklist
01. Love Can Be That Way – 03:33
02. Fool For Every Season – 03:23
03. Irreplaceable – 03:38
04. Elmo's Song – 01:42
05. Run To You – 02:48
06. The Right Thing – 03:37
07. Poor Lonesome Me – 02:59
08. One More Mystery – 04:27
09. The Hills Of Sicily – 04:08
10. The Same Kind Words – 03:44
11. For A Look At You – 04:15
12. No Common Future – 04:28
13. When We Were Kings – 03:50
14. Beyond Love – 03:46
———————-
DYNAMIC RANGE
SACD-ISO | SACD-FLAC
INFO
DISCOGS
DOWNLOAD FROM
LMA_EURU.2005.IADL_SACD-FLAC-MCH.rar
LMA_EURU.2005.IADL_SACD-FLAC-STEREO.rar
LMA_EURU.2005.IADL_SACD-ISO.rar
———————-
If you encounter broken links or other problem about this publication, please let me know and write your comment below. I will reply and fix as soon as possible.