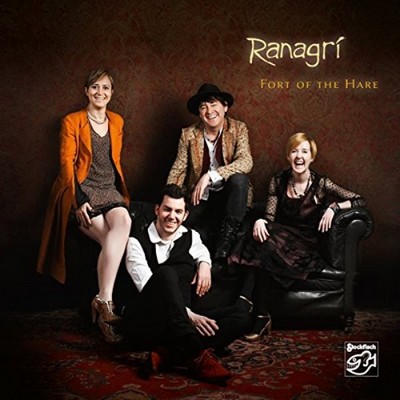 Ranagri – Fort of the Hare (2014) [Hi-Res SACD Rip]
SACD-ISO / DSD / 1bit / 2.8224MHz
DSF-Tracks / DSD / 1bit / 2.8224MHz
FLAC Tracks / 24bit / 88.2kHz
Total Size: 1.23 GB (DSF) + 864 MB (FLAC) + 1.93 GB (ISO)
Label: Stockfisch Records | UK | Cat#: SFR 357.4085.2 | Genre: Folk, Country, World
Ranagri (pronounced Ran-ag-rye) is a venture from four musicians who have come together to create some exciting new sounds. Consisting of flutes, ethnic flutes, electric harp, bodhran, guitar, bouzouki and vocals, Ranagri fuse worldwide folk music with quality contemporary songwriting, enhanced by virtuosic instrumentals, vibrant rhythms and haunting melodies, all interlaced with vivid storytelling.
October's gold in endless supply – late roses basking in the sun's mild rays. Knarled tree branches laden with ripened fruit. And that clear, fathomless blue. If this were to be captured in music, then what could it sound like? Just perhaps, not so unlike "Fort of The Hare," Ranagri's debut album on Stockfisch. Ranagri sound like a precious, unspoiled spot of beauty – the Irish village of Ranagri that gave the band its name. The four Londoners marry musical influences ranging from classical, folk and blues. If their story did not exist, it would have to be invented.
Tracklist
01. Cold Shallow – 04:36
02. The Bogeyman – 04:34
03. Atlas – 03:22
04. I Wonder – 04:15
05. Sad Songs – 03:55
06. Spookey International – 04:06
07. You Can Do Better – 04:03
08. The Hare – 04:15
09. Strange World – 03:16
10. The Rhythm Takes You Back – 03:47
11. Tremors – 04:04
12. Under-Discovered – 03:34
———————-
DYNAMIC RANGE
DSF | ISO | FLAC
INFO
DISCOGS
DOWNLOAD FROM
LMA_RNGR.2014.FOTH_SACD-DSF.rar
LMA_RNGR.2014.FOTH_SACD-FLAC.rar
LMA_RNGR.2014.FOTH_SACD-ISO.rar
———————-
If you encounter broken links or other problem about this publication, please let me know and write your comment below. I will reply and fix as soon as possible.