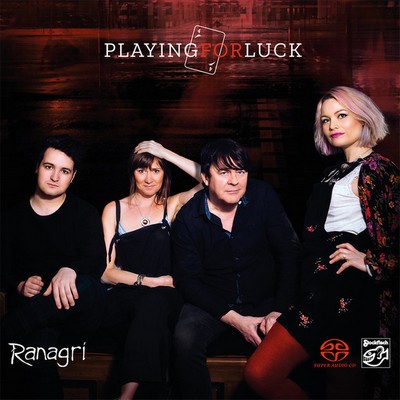 Ranagri – Playing For Luck (2018) [Hi-Res SACD Rip]
SACD-ISO / DSD / 1bit / 2.8224MHz
DSF-Tracks / DSD / 1bit / 2.8224MHz
FLAC Tracks / 24bit / 88.2kHz
Full Scans Included
Total Size: 1.39 GB (DSF) + 1.05 GB (FLAC) + 2.05 GB (ISO)
Label: Stockfisch Records | Germany | Cat#: SFR357.4096.2 | Genre: Folk, Country, World
This sounds like a recipe for disaster. Here we have four stubbornly independent artistic individuals, a creative quartet of highly-trained instrumentalists, two women, two men, each with their own moving and impressive backgrounds, four unmistakable voices, four uniquely individual perspectives on root work and euphony – and yet: sometimes true magic lies in just such an unlikely but inspired mixture.
Simple genre-labeling is just impossible here. When Irish folk traditions meet the vibrant melodies of a lively city like London, when classical instrumental training collides with the hard hands-on club experience of the blues musician, when an intellectual understanding of music rubs shoulders with a clearly audible knowledge and feel for the golden decades of pop music, it is precisely this immense richness of related and associated styles, sources and roots that make this rich and soulful bundle of a dozen songs so unique and radiant.
Regardless of whether you have an award-winning harpist, a flute player comfortable in all styles, a busy multi-instrumentalist or a singer-songwriter who travels the world, these different backgrounds and horizons, experiences and peculiarities flow seamlessly into the Ranagri melting pot. The resulting music-mixture is a unique, sometimes singable, sometimes mystical musical fairytale world between intricate folk music, noble and elegant pop, artful and beautiful sounds, sympathetic pub-rock and flowing, eloquent singer-songwriter art.
Tracklist
01. Strangler – 03:38
02. Devil's Need – 04:14
03. The Medication Show – 03:48
04. Like My Enemy – 03:24
05. The Thief – 05:04
06. Sometimes Home – 04:37
07. Trees – 03:44
08. Out There – 04:21
09. Waiting For The Rain – 03:23
10. Falling Down – 03:07
11. Colder – 03:12
12. Liberty – 02:48
———————-
DYNAMIC RANGE
DSF | ISO | FLAC
INFO
DISCOGS
DOWNLOAD FROM
LMA_RNGR.2018.PFL_SACD-DSF.rar
LMA_RNGR.2018.PFL_SACD-FLAC.rar
LMA_RNGR.2018.PFL_SACD-ISO.rar
———————-
If you encounter broken links or other problem about this publication, please let me know and write your comment below. I will reply and fix as soon as possible.