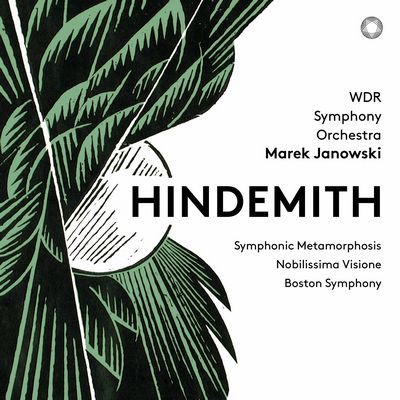 WDR Symphony Orchestra / Marek Janowski – Hindemith: Symphonic Metamorphosis / Nobilissima Visione / Boston Symphony (2018) [Hi-Res SACD Rip]
SACD-ISO / DSD / 1bit / 2.8224MHz
FLAC Tracks / 24bit / 88.2kHz
Stereo & Multichannel | Digital Booklet Included
Total Size: 3.24 GB (FLAC) + 2.76 GB (ISO) | 3% RAR Recovery
Label: PentaTone | Germany | Cat#: PTC 5186 672 | Genre: Classical
Paul Hindemith belongs to the most original and interesting composers of the twentieth century. Once described by the Boston Globe as a "20th-century Brahms", Hindemith wrote music that is Modernist in its rhythmic audacity and colourful orchestration, but simultaneously inspired by Classical forms and styles. The WDR Symphony Orchestra and conductor Marek Janowski provide a fascinating interpretation of three orchestral works that display an irrepressible, almost wild passion for music-making that is omnipresent throughout Hindemith's oeuvre.
In the Concert Music for Strings and Brass (1931) – also known as "Boston Symphony" ‒ Hindemith invigorates the century-old concertato style of competing instrument groups in twentieth-century fashion by utilizing unusual ensemble combinations. He extracted the Nobilissima Visione suite (1938) from an eponymous "dance legend" on Saint Francis's vision of the three allegories of poverty, chastity, and obedience. The piece represents the violent battle in which Francis is wounded, but most of the music is serene, focusing on the noblest vision that the wounded Francis subsequently experiences. The Symphonic Metamorphosis of Themes by Carl Maria von Weber (1944) were also conceived as a ballet, but eventually materialized as a concert piece. Hindemith based the work on a collection of melodies that Carl Maria von Weber once wrote for a theatre performance of Friedrich Schiller's Turandot. Weber's rather simple chinoiserie dating from 1809 is driven forward relentlessly by Hindemith's rhythms and jazzy harmonies. The piece epitomizes Hindemith's capacity to reconcile the old and new in a highly personal musical language. ― pentatonemusic.com
Tracklist
Symphonic Metamorphosis of Themes by Carl Maria von Weber (1940-1943)
01. Allegro – 03:37
02. Scherzo – 07:36
03. Andantino – 04:01
04. Marsch – 04:21
Nobilissima Visione (suite) (1938)
05. Introduction And Rondo – 07:44
06. March And Pastorale – 08:00
07. Passacaglia – 06:18
Concert Music for Strings and Brass ("Boston Symphony"), Op. 50 (1930)
08. Mäßig schnell, mit Kraft – Sehr breit, aber stets fließend – 09:00
09. Lebhaft – Langsam – In ersten Zeitmaß (lebhaft) – 07:48
———————-
DYNAMIC RANGE
SACD-ISO | SACD-FLAC
INFO
DISCOGS
DOWNLOAD FROM
LMA_WDRSO.MJ.2018.H.SM.NV.BS_SACD-FLAC-MCH.rar
LMA_WDRSO.MJ.2018.H.SM.NV.BS_SACD-FLAC-STEREO.rar
LMA_WDRSO.MJ.2018.H.SM.NV.BS_SACD-ISO.rar
———————-
If you encounter broken links or other problem about this publication, please let me know and write your comment below. I will reply and fix as soon as possible.