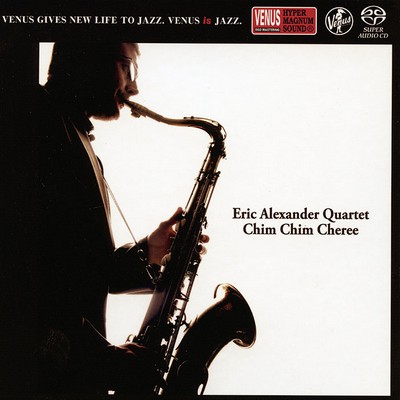 Eric Alexander Quartet – Chim Chim Cheree (2015) [Hi-Res SACD Rip]
SACD-ISO / DSD / 1bit / 2.8224MHz
DSF-Tracks / DSD / 1bit / 2.8224MHz
FLAC Tracks / 24bit / 88.2kHz
Front & Back Covers
Total Size: 1.74 GB (DSF) + 1.23 GB (FLAC) + 2.51 GB (ISO)
Label: Venus Records | Japan | Cat#: VHGD-116 | Genre: Post Bop
Chim Chim Cheree has been dubbed "a tribute to John Coltrane." Returning with usual sidemen Harold Mabern at the piano, Joe Farnsworth on drums, and bassist John Webber, this album represents a thorough examination of Coltrane's music made up of Coltrane originals and tunes Coltrane ostensibly owned throughout his career. While George Coleman, Dexter Gordon, and Sonny Stitt are most often cited as the foremost influences on Alexander, Coltrane is clearly among them.
Tracklist
01. You Don't Know What Love Is [D. Rays, G. De Paul] – 07:31
02. Dear Lord [J. Coltrane] – 06:53
03. On The Misty Night [T. Dameron] – 07:16
04. Chim Chim Cheree [Richard M. Sherman] – 07:45
05. Pursuance [J. Coltrane] – 08:32
06. Afro Blue [M. Santamaria] – 07:14
07. The Night Has A Thousand Eyes [J. Brannin] – 10:06
08. Wise One [J. Coltrane] – 06:35
———————-
DYNAMIC RANGE
DSF | ISO | FLAC
DOWNLOAD FROM
LMA_EAQ.2015.CCC_SACD-DSF.rar
LMA_EAQ.2015.CCC_SACD-FLAC.rar
LMA_EAQ.2015.CCC_SACD-ISO.rar
———————-
If you encounter broken links or other problem about this publication, please let me know and write your comment below. I will reply and fix as soon as possible.