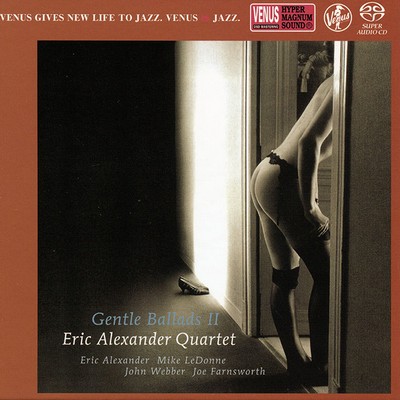 Eric Alexander Quartet – Gentle Ballads II (2015) [Hi-Res SACD Rip]
SACD-ISO / DSD / 1bit / 2.8224MHz
DSF-Tracks / DSD / 1bit / 2.8224MHz
FLAC Tracks / 24bit / 88.2kHz
Front & Back Covers
Total Size: 1.77 GB (DSF) + 1.19 GB (FLAC) + 2.61 GB (ISO)
Label: Venus Records | Japan | Cat#: VHGD-52 | Genre: Post Bop
In 2004, tenor saxophonist Eric Alexander recorded a smash hit album Gentle Ballads for Venus Records that earned Swing Journal's 2004 Jazz Disc Silver Award in Japan. What we have here is Gentle Ballads II, the second installment recorded two years later.
The band is the same and the concept is the same. What you get is a lot of wonderful tenor sax playing. What strikes the most is Alexander's great tone. It is strong and brawny, and supremely powerful. The recording captured this wonderful sound and put it center and forward.
If you are a fan of this instrument and well-played jazz ballads, you'll simply love this album. It's an album to listen to at night, preferably with your loved one at your side. Sit back with your favorite drink and let the warm sound of Alexander's tenor envelop you and intoxicate you.
Tracklist
01. Mona Lisa [R. Evans] – 07:47
02. I Got It Bad (And That Ain't Good) [D. Ellington] – 08:11
03. Funny [H. Prince, M. Neil, P. Broughton] – 08:01
04. I'm A Fool To Want You [F. Sinatra, J. Wolf, J. Herron] – 07:37
05. Li'l Darlin' [N. Hefti] – 06:49
06. Look Of Love [B. Bacharach, H. David] – 06:51
07. My Ship [K. Weill] – 06:04
08. Who Can I Turn To [A. Newly, L. Bricusse] – 06:48
09. Time After Time [S. Cahn] – 06:39
———————-
DYNAMIC RANGE
DSF | ISO | FLAC
INFO
DISCOGS
DOWNLOAD FROM
LMA_EAQ.2015.GBII_SACD-DSF.rar
LMA_EAQ.2015.GBII_SACD-FLAC.rar
LMA_EAQ.2015.GBII_SACD-ISO.rar
———————-
If you encounter broken links or other problem about this publication, please let me know and write your comment below. I will reply and fix as soon as possible.