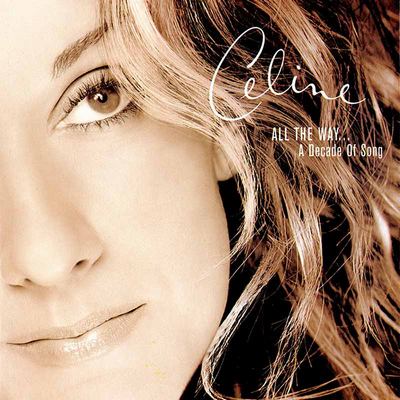 Céline Dion – All the Way… A Decade Of Song (1999) [Hi-Res SACD Rip]
SACD Rip | ISO @1bit/2.8224MHz, DSD64 | FLAC Tracks @24bit/88.2kHz | Stereo & Multichannel
Full Scans Included
Total Size: 5.70 GB (ISO) + 4 GB (FLAC Multichannel) + 1.46 GB (FLAC Stereo) | 3% RAR Recovery
Label: Epic / 550 Music | Canada | Cat#: BS 63760 | Genre: Adult Contemporary
All the Way… A Decade of Song is the first English-language greatest hits album by Canadian recording artist Celine Dion. Released by Sony Music Entertainment on 12 November 1999, it features nine previously released and seven new recordings. Dion worked on new songs mainly with David Foster. Other producers include Max Martin, Kristian Lundin, Robert John "Mutt" Lange, James Horner and Matt Serletic.
All the Way… A Decade of Song garnered positive reviews from music critics. They praised the first uptempo single "That's the Way It Is" and a ballad "If Walls Could Talk". Some criticism was directed towards including a small number of hits and many new recordings. Despite that, the album became a commercial success throughout the world and peaked at number one in every major music market around the globe. All the Way… A Decade of Song has sold 8,100,000 copies in the United States, according to Nielsen SoundScan. It has also sold five million copies in Europe and shipped two million copies in Japan and one million in Canada. During the first two years of its release, the album had sold over seventeen million copies worldwide.
The lead single, "That's the Way It Is" was well received by critics and became a commercial success around the world. The following singles were released in selected countries only and without any promotion from Dion, who was on her two-year break from the music industry, they performed moderately on the charts.
Tracklist:
01. The Power of Love (Radio Edit) – 04:50
02. If You Asked Me To – 03:55
03. Beauty and The Beast (OMPST) (Duet with Peabo Bryson) – 04:05
04. Because You Loved Me (Theme from 'Up Close and Personal') – 04:35
05. It's All Coming Back To Me Now – 05:32
06. Love Can Move Mountains – 04:02
07. To Love You More (Radio Edit) – 04:42
08. My Heart Will Go On (Love Theme From 'Titanic') – 04:43
09. I'm Your Angel (Duet with R. Kelly) – 05:31
10. That's The Way It Is – 04:03
11. If Walls Could Talk – 05:20
12. The First Time Ever I Saw Your Face – 04:09
13. All The Way (Duet with Frank Sinatra) – 03:53
14. Then You Look At Me – 04:12
15. I Want You To Need Me – 04:36
16. Live For The One I Love – 03:58
———————-
INFO
DISCOGS
DOWNLOAD FROM
LMA_CeDi.1999.ATW…ADOS_SACD
———————-
If you encounter broken links or other problem about this publication, please let me know and write your comment below. I will reply and fix as soon as possible.