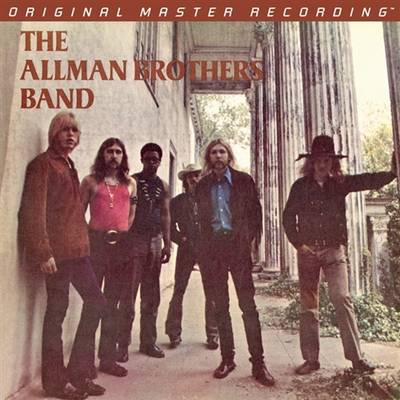 The Allman Brothers Band – The Allman Brothers Band (1969)
[2012, MFSL Remastered, CD-Layer & Hi-Res SACD Rip]
SACD-ISO / DSD / 1bit / 2.8224MHz
FLAC Tracks / 24bit / 88.2kHz
CD-Layer / EAC Rip / FLAC Image + Cue + Log
Full Scans Included
Total Size: 251 MB (CD-Layer) + 1.34 GB (SACD-ISO) + 680 MB (SACD-FLAC) | 3% RAR Recovery
Label: MFSL UltraDisc UHR | USA | Cat#: UDSACD 2101 | Genre: Blues Rock
They hailed from Macon, Georgia. They looked liked any number of young, hopeful bands straddling the violent fade of the 1960s with the advent of the 1970s. They missed the British Invasion-triggered blues revival by several years. Yet they sounded like no other group, their youthfulness belied by virtuosic abilities and interlocking interplay Miles Davis would've envied. It all starts here, on a smoldering self-titled debut that has few peers.
Mastered from the original master tapes, Mobile Fidelity's hybrid SACD of The Allman Brothers Band joins the unparalleled reissue imprint's other Allman titles in presenting the inimitable group's music in the most lifelike, uncompromising fidelity anyone has ever heard. Opening up the dynamic contrasts, clearing direct paths for the frequency ranges, and ensuring optimal balances and neutrality, this digital edition takes listeners to the producer's chair at New York's Atlantic Studios as the sessions went down. The Allman Brothers Band on disc has never sounded so crisp, clear, or defined.
Having already cut its collective teeth via live shows throughout the South, the Allman Brothers Band was properly vetted for its initial major-label foray. In particular, Gregg and Duane Allman had done stints in several other collectives that recorded a handful of long-forgotten records. Duane, too, established himself as a go-to whiz-kid slide and lead guitarist, becoming a session instrumentalist for Muscle Shoals' FAME Studios and playing with the likes of Aretha Franklin, Percy Sledge, Wilson Pickett, and others.
He and organist/vocalist Gregg's deft touch and innate knack for soulful tonalities help define his namesake group's eponymous debut, notched with raw-boned R&B and purifying gospel motifs that seeped into the duo's consciousness while growing up in Jacksonville. Complemented by likeminded lead guitarist Dickey Betts and a trio of similarly minded masters, the siblings quickly changed history on this 1969 set famous for stunningly resonant blues, spirit-moving soul, and polyrhythmic rock.
Entering with a memorable one-two punch in which fluid jazz lines mutate into an anguished 12-bar blues exchange between Gregg and Duane, continuing with an edgy and worthy take of Muddy Waters' "Trouble No More," and closing with the landscape-shifting workout "Whipping Post," a preview of things to come, The Allman Brothers Band contains no flaws. Then there's the aching of "Dreams," a melodic 12/8-time piece showcasing slide-guitar voodoo and psychedelic aftertastes. Don't miss this stellar work. ― mofi.com
Tracklist:
01. Don't Want You No More – 02:25
02. It's Not My Cross To Bear – 05:04
03. Black Hearted Woman – 05:11
04. Trouble No More – 03:50
05. Every Hungry Woman – 04:15
06. Dreams – 07:20
07. Whipping Post – 05:19
———————-
INFO
DISCOGS
DOWNLOAD FROM
CD-Layer
LMA_TABB.1969.TABB.2012.MFSL_CD-Layer.rar
Hi-Res SACD
LMA_TABB.1969.TABB.2012.MFSL_SACD-FLAC.rar
LMA_TABB.1969.TABB.2012.MFSL_SACD-FLAC.rar
LMA_TABB.1969.TABB.2012.MFSL_SACD-ISO.part1.rar
LMA_TABB.1969.TABB.2012.MFSL_SACD-ISO.part1.rar
LMA_TABB.1969.TABB.2012.MFSL_SACD-ISO.part2.rar
LMA_TABB.1969.TABB.2012.MFSL_SACD-ISO.part2.rar
———————-
If you encounter broken links or other problem about this publication, please let me know and write your comment below. I will reply and fix as soon as possible.