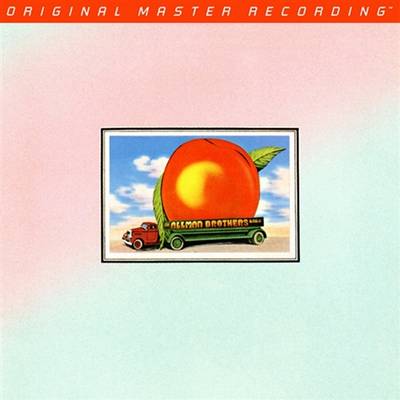 The Allman Brothers Band – Eat A Peach (1972) [2013, MFSL Remastered, CD-Layer + Hi-Res SACD Rip]
SACD-ISO / DSD / 1bit / 2.8224MHz
DSF Tracks / DSD / 1bit / 2.8224MHz
FLAC Tracks / 24bit / 88.2kHz
CD-Layer / EAC Rip / FLAC Image + Cue + Log
Full Scans Included
Total Size: 2.91 GB (ISO) + 2.86 GB (DSF) + 1.37 GB (FLAC) + 650 MB (CD-Layer) | 3% RAR Recovery
Label: Mobile Fidelity Sound Lab | US | Cat#: UDSACD 2102 | Genre: Blues Rock
Update: DSF Tracks have been added
Eat a Peach is the third studio album by American rock band the Allman Brothers Band. Produced by Tom Dowd, the album was released on February 12, 1972, in the United States by Capricorn Records. Following their artistic and commercial breakthrough with the release of the live album At Fillmore East (1971), the Allman Brothers Band got to work on their third studio album. Many in the band were struggling, however, with heroin addictions, and checked into rehab to confront these problems. Shortly after leaving rehab, group leader and founder Duane Allman was killed in a motorcycle accident in the band's home of Macon, Georgia thus making it the final album to feature the guitarist.
Eat a Peach was a mix of studio recordings—both with and without Duane Allman—and recordings from the band's famed 1971 Fillmore East performances. The album contains the extended half-hour-long "Mountain Jam," as well as vocalist Gregg Allman's performance of his brother's favorite song, "Melissa," plus Dickey Betts' "Blue Sky", which went on to become a radio staple. The album artwork was created by W. David Powell and J. F. Holmes at Wonder Graphics, and depicts the band's name on a peach truck, in addition to a large gatefold mural of mushrooms and fairies. The album's title came from a quote by Duane Allman: "You can't help the revolution, because there's just evolution … Every time I'm in Georgia, I eat a peach for peace … the two-legged Georgia variety.
Tracklist:
01. Ain't Wastin' Time No More – 03:43
02. Les Brers In A Minor – 09:08
03. Melissa – 04:00
04. Mountain Jam – 33:49
05. One Way Out – 04:57
06. Trouble No More – 03:46
07. Stand Back – 03:27
08. Blue Sky – 05:12
09. Little Martha – 02:09
———————-
CD LOGS
EAC | CUETOOLS
DYNAMIC RANGE
CD-LAYER | SACD-ISO | SACD-DSF | SACD-FLAC
INFO
DISCOGS
DOWNLOAD FROM
CD-Layer
LMA_TABB.1972.EAP.2013.MFSL_SACD-CD-LAYER.rar
Hi-Res SACD
LMA_TABB.1972.EAP.2013.MFSL_SACD-DSF.rar
LMA_TABB.1972.EAP.2013.MFSL_SACD-FLAC.rar
LMA_TABB.1972.EAP.2013.MFSL_SACD-ISO.rar
———————-
If you encounter broken links or other problem about this publication, please let me know and write your comment below. I will reply and fix as soon as possible.