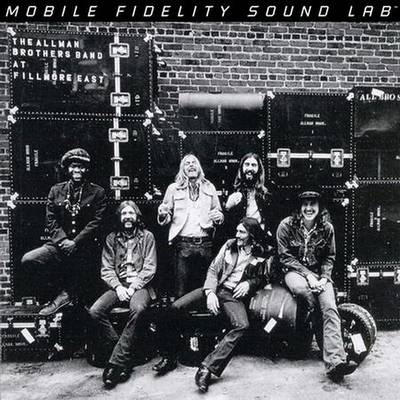 The Allman Brothers Band – At Fillmore East (1971)
[2015, MFSL Remastered, CD-Layer + Hi-Res SACD Rip]
SACD-ISO / DSD / 1bit / 2.8224MHz
DSF Tracks / DSD / 1bit / 2.8224MHz
FLAC Tracks / 24bit / 88.2kHz
CD-Layer / EAC Rip / FLAC Image + Cue + Log
Full Scans Included
Total Size: 3.26 GB (ISO) + 3.21 GB (DSF) + 1.48 GB (FLAC) + 578 MB (CD-Layer) | 3% RAR Recovery
Label: Mobile Fidelity Sound Lab | US | Cat#: UDSACD 2143 | Genre: Blues Rock
Update: DSF Tracks have been added
Fillmore East is synonymous with some of the greatest concerts ever staged. Yet the vaudeville venue belongs to one group: The Allman Brothers Band. This groundbreaking double album is why. As the collective's breakthrough, it broadcasts to the world wowing improvisational flights and seamless musical fusion the likes of which no one had ever heard. In communion with the crowd, the band establishes an interactive blueprint for all shows that followed, while its high-wire displays of powerhouse soloing and time-stretching arrangements remain the stuff of hall-of-fame legend.
While the record features multiple works the band never laid down in a studio, At Fillmore East is a meticulously conceived affair. The Allmans prepped rough sketches and layouts of the tunes, carving out spaces for each member's solos, and leaving the direction of such entirely up to the individual. As a result, the effort—anchored by iconic producer Tom Dowd's stellar production—presents a jazz-drifting rock band benefiting from both a sense of assured direction as well as opportunistic freedom. ― mofi.com
Tracklist:
01. Statesboro Blues – 04:21
02. Done Somebody Wrong – 04:36
03. Stormy Monday – 08:50
04. You Don't Love Me – 19:23
05. Hot 'Lanta – 05:23
06. In Memory Of Elizabeth Reed – 13:07
07. Whipping Post – 23:12
———————-
CD LOGS
EAC | CUETOOLS
DYNAMIC RANGE
CD-LAYER | SACD-ISO | SACD-DSF | SACD-FLAC
INFO
DISCOGS
DOWNLOAD FROM
CD-Layer
LMA_TABB.1971.AFE.2015.MFSL_SACD-CD-LAYER.rar
Hi-Res SACD
LMA_TABB.1971.AFE.2015.MFSL_SACD-DSF.rar
LMA_TABB.1971.AFE.2015.MFSL_SACD-FLAC.rar
LMA_TABB.1971.AFE.2015.MFSL_SACD-ISO.rar
———————-
If you encounter broken links or other problem about this publication, please let me know and write your comment below. I will reply and fix as soon as possible.