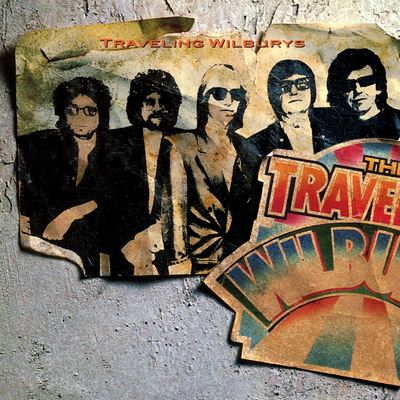 Traveling Wilburys – Vol.1 (1988)
EAC Rip | FLAC Image + Cue + Log | Full Scans @600 dpi, JPG, Included
FLAC: 270 MB | 3% RAR Recovery
Label: Teldec Records / Warner Bros. | Cat#: 925 796-2 | Genre: Folk Rock
There never was a supergroup more super than the Traveling Wilburys. They had Jeff Lynne, the leader of ELO; they had Roy Orbison, the best pop singer of the '60s; they had Tom Petty, the best roots rocker this side of Bruce Springsteen; they had a Beatle and Bob Dylan, for crying out loud! It's impossible to picture a supergroup with a stronger pedigree than that (all that's missing is a Rolling Stone), but in another sense it's hard to call the Wilburys a true supergroup, since they arrived nearly two decades after the all-star craze of the '70s peaked, and they never had the self-important air of nearly all the other supergroups. That, of course, was the key to their charm: they were a group of friends that fell together easily, almost effortlessly, to record a B-side for a single for George Harrison, then had such a good time they stuck around to record a full album, which became a hit upon its 1988 release. Looking back, the group's success seems all the more remarkable because the first album is surely, even proudly, not a major statement. Even under the direction of Lynne, who seems incapable of not polishing a record till it gleams, it's loose and funny, even goofy. It's clearly a lark, which makes the offhanded, casual virtuosity of some of the songs all the more affecting, particularly the two big hits, which are sunny and warm, partially because they wryly acknowledge the mileage on these rock & roll veterans. "Handle with Care" and "End of the Line" are the two masterworks here, although Roy's showcase, "Not Alone Anymore" — more grand and moving than anything on the Lynne-produced Mystery Girl — comes close in the stature, but its stylized melodrama is a ringer here: it, along with Dylan's offhand heartbreak tune "Congratulations," is the only slow thing here, and the rest of the album just overspills with good vibes, whether it's Tom Petty's lite reggae of "Last Night," Jeff Lynne's excellent Jerry Lee Lewis update "Rattled," or Dylan's very funny "Dirty World," which is only slightly overshadowed by his very, very funny Springsteen swipe "Tweeter and the Monkey Man." These high times keep The Traveling Wilburys fresh and fun years later, after Lynne's production becomes an emblem of the time instead of transcending it.
Reviewed by Allmusic
Personnel / Credits:
• Nelson Wilbury (George Harrison) – vocals, electric and acoustic guitars, slide guitar, backing vocals
• Otis Wilbury (Jeff Lynne) – vocals, electric and acoustic guitars, keyboards, backing vocals
• Charlie T. Wilbury Jr (Tom Petty) – vocals, bass, acoustic guitar, backing vocals
• Lefty Wilbury (Roy Orbison) – vocals, acoustic guitar, backing vocals (except on "Tweeter and the Monkey Man")
• Lucky Wilbury (Bob Dylan) – vocals, acoustic guitar, harmonica, backing vocals
Additional Info:
• Recorded Date: April–May 1988 FPSHOT, Lucky Studios and Dave Stewart Studios
• Released Date: October 18, 1988 (US) / October 24, 1988 (UK)
• Producer: Otis Wilbury, Nelson Wilbury
• More info: Here
Tracklist:
01. Handle With Care – 03:19
02. Dirty World – 03:29
03. Rattled – 02:59
04. Last Night – 03:51
05. Not Alone Any More – 03:25
06. Congratulations – 03:29
07. Heading For The Light – 03:36
08. Margarita – 03:16
09. Tweeter And The Monkey Man – 05:27
10. End Of The Line – 03:26
Download From

LMA__TW.VOL1.1988.rar

Password: www.LosslessMA.net

If you encounter broken links or other problem about this publication, please let me know
and write your comment below. I will reply and fix as soon as possible.