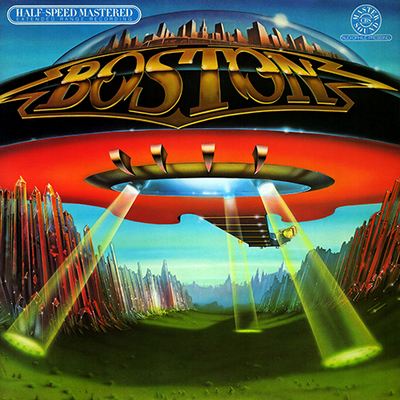 Boston – Don't Look Back (1978) [1981, CBS Mastersound, CD-Quality + Hi-Res Vinyl Rip]
Vinyl Rip | Hi-Res / FLAC Tracks / 24bit / 96kHz | CD-Quality / FLAC Tracks / 16bit / 44.1kHz
Full Scans Included
Total Size: 829 MB (Hi-Res) + 251 MB (CD-Quality) | 3% RAR Recovery
Label: Epic / CBS Mastersound | US | Cat#: HE 45050 | Genre: Hard Rock
Half-Speed Mastered
Boston's many fans were upset that it took the band two years to follow up its monster debut. When it arrived, the sophomore effort DON'T LOOK BACK was a virtual rewrite of BOSTON. This didn't stop the masses from snapping up the album, which ultimately racked up sales in the multi-platinum range.
Boston sounds inspired on the anthemic title track. Other standout tracks include "It's Easy" and "Man I'll Never Be." The hard-rocking "Don't Be Afraid" closes the album. And two years would prove to be nothing in light of the eight-year hiatus between DON'T LOOK BACK and Boston's next release, 1986's THIRD STAGE. ― Allmusic
Tracklist
SIDE ONE
01. Don't Look Back – 05:53
02. The Journey – 01:54
03. It's Easy – 04:26
04. A Man I'll Never Be – 06:40
SIDE TWO
05. Feelin' Satisfied – 04:12
06. Party – 04:07
07. Used To Bad News – 02:57
08. Don't Be Afraid – 03:48
———————-
DYNAMIC RANGE
HI-RES | CD-QUALITY
IMAGE GALLERY & INFO
LABELS | DISCOGS
DOWNLOAD FROM
CD-Quality
LMA_BSTN.1978.DLB.1981_LP_16-44.rar
Hi-Res
LMA_BSTN.1978.DLB.1981_LP_24-96.rar
———————-
If you encounter broken links or other problem about this publication, please let me know and write your comment below. I will reply and fix as soon as possible.