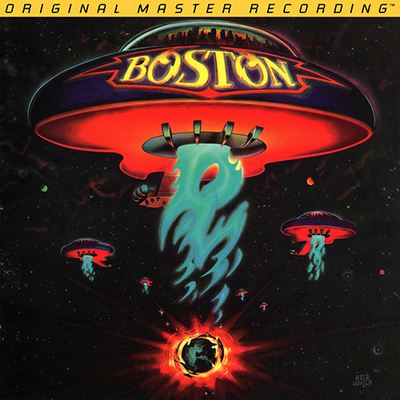 Boston – Boston (1976) [1996, MFSL Remastered, CD-Quality + Hi-Res Vinyl Rip]
Vinyl Rip | Hi-Res / FLAC Tracks / 24bit / 96kHz | CD-Quality / FLAC Tracks / 16bit / 44.1kHz
Full Scans Included
Total Size: 875 MB (Hi-Res) + 267 MB (CD-Quality) | 3% RAR Recovery
Label: Mobile Fidelity Sound Lab | US | Cat#: MFSL 1-249 | Genre: Hard Rock
Half-Speed Mastered
Boston is the debut studio album by American rock band Boston. Produced by Tom Scholz and John Boylan, the album was released on August 25, 1976, in the United States by Epic Records. Scholz had studied classical piano in his childhood and became involved in the Boston music scene in the late 1960s. He subsequently started to concentrate on demos recorded in his apartment basement with singer Brad Delp, and although their previous group, Mother's Milk, had received numerous rejection letters from major record labels in the early 1970s, by 1975, the demo tape had fallen into the hands of CBS-owned Epic Records, who signed them.
Tracklist
SIDE ONE
01. More Than A Feeling – 04:43
02. Peace Of Mind – 05:01
03. Foreplay – Long Time – 07:47
04. Rock & Roll Band – 02:59
SIDE TWO
05. Smokin' – 04:19
06. Hitch A Ride – 04:12
07. Something About You – 03:48
08. Let Me Take You Home Tonight – 04:43
———————-
DYNAMIC RANGE
HI-RES | CD-QUALITY
IMAGE GALLERY & INFO
LABELS | DISCOGS
DOWNLOAD FROM
CD-Quality
LMA_BSTN.1976.B.1996.MFSL_LP_16-44.rar
Hi-Res
LMA_BSTN.1976.B.1996.MFSL_LP_24-96.rar
———————-
If you encounter broken links or other problem about this publication, please let me know and write your comment below. I will reply and fix as soon as possible.