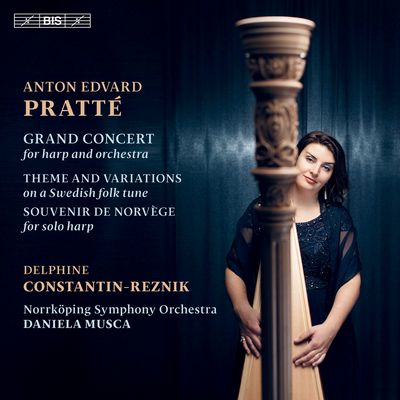 Anton Edvard Pratté / Delphine Constantin-Reznik / Norrköping Symphony Orchestra / Daniela Musca – Grand Concert For Harp And Orchestra / Theme And Variations On A Swedish Folk Tune / Souvenir de Norvège For Solo Harp (2021) [Hi-Res SACD Rip]
SACD-ISO / DSD / 1bit / 2.8224MHz
DSF-Tracks / DSD / 1bit / 2.8224MHz
FLAC Tracks / 24bit / 88.2kHz
Stereo & Multichannel | Digital Booklet
Total Size: 3.41 GB (ISO) + 10.4 GB (DSF) + 3.92 GB (FLAC) | 3% RAR Recovery
Label: Bis | EU | Cat#: BIS-2570 SACD | Genre: Classical
It was when Delphine Constantin-Reznik took up the post as harpist in the Norrköping Symphony Orchestra that she first came across the name Anton Pratté, well-known in his lifetime as a harpist and composer. Her research into the music and activities of this forgotten master has now resulted in the very first recording of any of his numerous compositions for the harp. Anton Edvard Pratté was born in Bohemia into a family that ran a touring puppet theatre. He came to Sweden as an adolescent, and soon made a name for himself, performing music of his own as well as by others.
Pratté gave concerts across Sweden, as well as in Norway and Finland, and in the 1840s even went on an extensive tour of Europe, performing in Berlin (where members of the Prussian royal family were in the audience), Vienna and Prague. But much of his life was spent in the area around Norrköping where he taught the daughters of wealthy landowners and for a while conducted the local orchestra society – the forerunner of the Norrköping Symphony Orchestra heard in the Grand Concert which opens the present disc. This is followed by two works for solo harp, both making use of traditional tunes from Sweden and Norway respectively. ― bis.se
Tracklist
Grand Concert in G minor for harp and orchestra
01. I. Allegro con spirito – 23:16
02. II. Romanza. Andante arioso — attacca — – 07:44
03. III. Rondo. Polacca à la Svedese – 12:14
04. Introdutione. Maestoso — Sarabande [Theme] – 02:09
Theme and Variations on a Swedish Folk Tune
05. Variation 1 – 01:16
06. Variation 2 – 00:50
07. Variation 3 – 01:27
08. Variation 5. Quasi Hymne – 01:43
09. Variation 6. Allegro con fuoco – 00:57
10. Variation 7. Adagio – 03:18
11. Variation 4 – 01:12
Souvenir de Norvège: Fra Fjelle og Dale
12. Fantaisie romantique – 17:23
———————-
DYNAMIC RANGE
ISO | DSF | FLAC
INFO
DISCOGS
DOWNLOAD FROM
LMA_AEP.DM.2021.GCFHAO_SACD-DSF-MCH.part1.rar
LMA_AEP.DM.2021.GCFHAO_SACD-DSF-MCH.part2.rar
LMA_AEP.DM.2021.GCFHAO_SACD-DSF-STEREO.rar
LMA_AEP.DM.2021.GCFHAO_SACD-FLAC-MCH.rar
LMA_AEP.DM.2021.GCFHAO_SACD-FLAC-STEREO.rar
LMA_AEP.DM.2021.GCFHAO_SACD-ISO.rar
———————-
If you encounter broken links or other problem about this publication, please let me know and write your comment below. I will reply and fix as soon as possible.