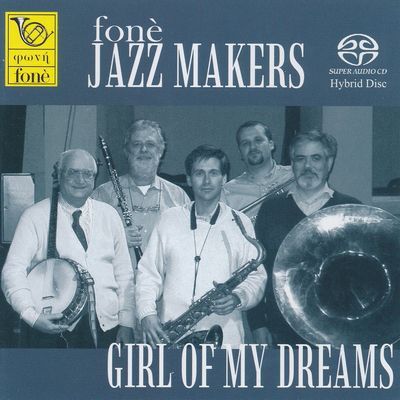 Fonè Jazz Makers – Girl Of My Dreams (2001) [Hi-Res SACD Rip]
SACD-ISO / DSD / 1bit / 2.8224MHz
DSF-Tracks / DSD / 1bit / 2.8224MHz
FLAC Tracks / 24bit / 88.2kHz
Scans Included
Total Size: 2.64 GB (DSF) + 1.16 GB (FLAC) + 2.68 GB (ISO) | 3% RAR Recovery
Label: Fonè | EU | Cat#: SACD 014 | Genre: Jazz
Girl Of My Dreams is an album of New Orleans Style Jazz featuring the Fone Jazz Makers. It starts with Darktown Strutters' Ball by Shelton Brooks. A happy song from the early 20th Century. Catchy and easily remembered. It sounds just like the ideal album opener.
Girl Of My Dreams, the title track was a popular waltz song of the Twenties and in more recent years had an important role in the movie Angel Heart. The New Orleans style musicians of the Fone Jazz Makers transformed it into a fox-trot.
The recording was produced and recorded by Giulio Cesare Ricci at the Teatro Comunale dei Concordi in Campiglia Marittima (LI). He used Neumann U47 and M49 tube microphones, advanced microphone pre-amplifiers Nagra Audio, Nagra 4s Analog Tape Recorders and line, microphone and supply cables designed by Signor Ricci.
The Original Analog Master Tapes were transferred from the Nagra 4s directly to Stereo DSD.
With this recording, Giulio Cesare Ricci wanted to give the listener a unique experience. It is as if the listener was sitting on an armchair positioned in the ideal position of the theater listening to this fine live recording of New Orleans Style Jazz. In this position, the depth, width, and height of the sound can be highly appreciated. ― nativedsd.com
Tracklist
01. Darktown Strutters' Ball (S. Brooks) – 04:23
02. Big Bad Bully (trad.) – 03:23
03. Nobody Knows the Way I Feel This Morning (T. Delaney) – 05:17
04. Boodie-Oolie (V. Castelli – G. Marson) – 04:30
05. Glory of Love (B. Hill) – 04:17
06. Shake That Thing (C. Jackson) – 04:02
07. Girl of My Dreams (S. Clapp) – 03:50
08. Rosetta (E. Hines – H. Woode) – 03:05
09. Wabash Blues (F. Meinken – D. Ringle) – 04:00
10. Alexander's Ragtime Band (I. Berlin) – 04:17
11. Sister Kate (A. J. Piron) – 04:58
12. Weary Blues (A. Matthews) – 04:53
13. Someday Sweetheart (Spikes bros.) – 03:08
14. Canal Street Blues (J. Oliver) – 03:52
15. Mama Don't 'Low (trad.) – 05:36
———————-
DYNAMIC RANGE
SACD-DSF | SACD-ISO | SACD-FLAC
INFO
DISCOGS
DOWNLOAD FROM
LMA_FJM.2001.GOMD_SACD-DSF.rar
LMA_FJM.2001.GOMD_SACD-FLAC.rar
LMA_FJM.2001.GOMD_SACD-ISO.rar
———————-
If you encounter broken links or other problem about this publication, please let me know and write your comment below. I will reply and fix as soon as possible.