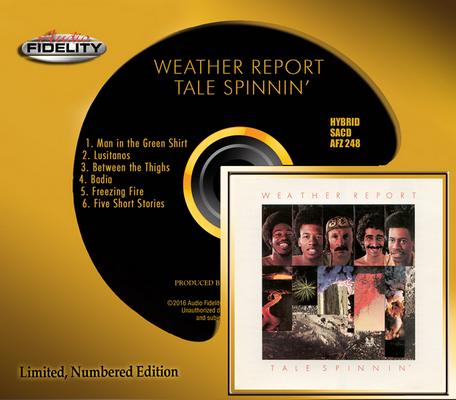 Weather Report – Tale Spinnin' (1975) [2016, Audio Fidelity Remastered, CD-Layer + Hi-Res SACD Rip]
SACD-ISO / DSD / 1bit / 2.8224MHz
DSF Tracks / DSD / 1bit / 2.8224MHz
FLAC Tracks / 24bit / 88.2kHz
CD-Layer / EAC Rip / FLAC Tracks + Cue + Log
Full Scans Included
Total Size: 688 MB (ISO) + 1.77 GB (DSF) + 851 MB (FLAC) + 270 MB (CD-Layer) | 3% RAR Recovery
Label: Audio Fidelity | Austria | Cat#: AFZ 248 | Genre: Jazz Fusion
Update: DSF Tracks have been added
Tale Spinnin' is the sixth album by Weather Report, recorded and released in 1975, featuring the addition of Leon "Ndugu" Chancler on the drums. Ndugu was recruited after Josef Zawinul heard him play with Carlos Santana. Weather Report was recording next door to Ndugu in the studio, and Chancler was asked to join them for a recording session. That session ended up lasting a week and produced Tale Spinnin'. After the record, Ndugu was asked to join the band as a permanent member, but declined in favor of continuing to work with Carlos Santana.
Tracklist:
01. Man In the Green Shirt – 06:29
02. Lusitanos – 07:25
03. Between the Thighs – 09:31
04. Badia – 05:22
05. Freezing Fire – 07:29
06. Five Short Stories – 06:57
———————-
CD LOGS
EAC | CUETOOLS
DYNAMIC RANGE
CD-LAYER | SACD-ISO | SACD-DSF | SACD-FLAC
INFO
DISCOGS
DOWNLOAD FROM
CD-Layer
LMA_WeRe.1975.TS.2016.AF_SACD-CD-Layer.rar
Hi-Res SACD
LMA_WeRe.1975.TS.2016.AF_SACD-DSF.rar
LMA_WeRe.1975.TS.2016.AF_SACD-FLAC.rar
LMA_WeRe.1975.TS.2016.AF_SACD-ISO.rar
———————-
If you encounter broken links or other problem about this publication, please let me know and write your comment below. I will reply and fix as soon as possible.