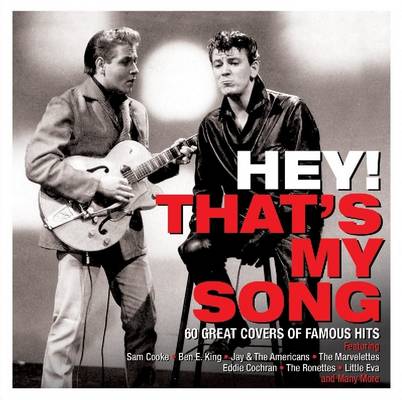 Various Artists – Hey! That's My Song (2016)
EAC Rip | 3xCD | FLAC Image + Cue + Log | Full Scans Included
Total Size: 788 MB | 3% RAR Recovery
Label: Not Now Music | EU | Cat#: NOT3CD232 | Genre: R&B, Rock & Roll, Oldies
Of course you already know these songs – all these songs; but maybe not these versions. It's as if someone broke into your house while you were out and re-arranged the furniture.
So let's take a trip down Memory Lane… Not the usual route and in an unfamliar car – but don't worry, it will be a memorable trip…
Additional Info:
• Released Date: June 30, 2016
CD 1
01. Ben E. King – Dream Lover – 02:41
02. Dee Dee Sharp – The Loco-Motion – 02:13
03. Bobby Vee – Summertime Blues – 01:57
04. Little Eva – Up On The Roof – 02:55
05. Marty Wilde – A Teenager In Love – 02:17
06. Conway Twitty – Diana – 02:35
07. Jay & The Americans – Spanish Harlem – 03:11
08. Roy Orbison – Love Hurts – 02:26
09. The Ronettes – Silhouettes – 02:21
10. Carl Perkins – Whole Lotta Shakin Goin' On – 03:00
11. Johnny Burnette – It's Only Make Believe – 02:29
12. The Marvelettes – Dream Baby – 02:26
13. Lloyd Price – Chantilly Lace – 02:50
14. Connie Francis – Bye Bye, Love – 02:22
15. Brian Hyland – Poor Little Fool – 02:08
16. Fabian – Kansas City – 02:12
17. The Shirelles & King Curtis – I've Got A Woman – 04:53
18. Emile Ford – Be My Guest – 02:07
19. Ruth Brown – Sea Of Love – 02:55
20. Sam Cooke – Unchained Melody – 03:26
CD 2
01. Jay & The Americans – Stand By Me – 02:59
02. The Marvelettes – Twistin' The Night Away – 02:31
03. Emile Ford – Paralysed – 02:32
04. Roy Orbison – I Can't Stop Loving You – 02:42
05. Jerry Butler – Moon River – 02:41
06. Connie Francis – I Walk The Line – 02:12
07. Dee Dee Sharp – Twist And Shout – 02:32
08. Bobby Vee – Earth Angel – 02:42
09. Marty Wilde – High School Confidential – 02:12
10. Sam Cooke – Mona Lisa – 02:35
11. Little Eva – Breaking Up Is Hard To Do – 02:18
12. Frankie Laine – Sixteen Tons – 02:20
13. Johnny Burnette – Crying In The Chapel – 02:05
14. Kay Starr – Walk On By – 02:15
15. Patti Page – Mack The Knife – 03:00
16. Claudine Clark – Havin' A Party – 02:41
17. Dick Dale – Sloop John B – 02:18
18. Gene Vincent – Maybellene – 02:26
19. The Chordettes – Wooden Heart – 02:22
20. Carmen McRae – Take Five – 02:16
CD 3
01. Roy Orbison – The Great Pretender – 03:02
02. Sam Cooke – Secret Love – 02:48
03. Kay Starr – Crazy – 02:58
04. Ben E. King – It's All In The Game – 02:54
05. Little Eva – Uptown – 02:26
06. Connie Francis – Singing The Blues – 02:16
07. Marty Wilde – Rubber Ball – 02:13
08. Conway Twitty – Splish Splash – 02:36
09. Johnnie Ray – Such A Night – 02:12
10. Bobby Vee – Lolli-Pop – 01:54
11. The Chordettes – Eddie My Love – 02:15
12. Eddie Cochran – Hallelujah, I Love Her So – 02:15
13. Patti Page – Big Bad John – 03:02
14. Sarah Vaughan – Misty – 03:00
15. Paul Petersen – Please, Mr. Sun – 02:11
16. Carl Perkins – Hey, Good Lookin' – 02:41
17. Frankie Vaughan – Tower Of Strength – 02:09
18. Jerry Lee Lewis – Goodnight Irene – 02:49
19. Wilbert Harrison – Since I Fell For You – 02:17
20. Jay & The Americans – Save The Last Dance For Me – 02:31
[su_accordion]
[su_spoiler title="EAC Logs" icon="plus-square-1″ style="fancy"]
[su_spoiler title="CD 1″ icon="plus-square-1″ style="fancy"]
Click Here[_/su_spoiler]
[su_spoiler title="CD 2″ icon="plus-square-1″ style="fancy"]
Click Here[_/su_spoiler]
[su_spoiler title="CD 3″ icon="plus-square-1″ style="fancy"]
Click Here[_/su_spoiler]
[/su_spoiler]
[su_spoiler title="CUETools 2.1.5 Logs" icon="plus-square-1″ style="fancy"]
[su_spoiler title="CD 1″ icon="plus-square-1″ style="fancy"]
Click Here[_/su_spoiler]
[su_spoiler title="CD 2″ icon="plus-square-1″ style="fancy"]
Click Here[_/su_spoiler]
[su_spoiler title="CD 3″ icon="plus-square-1″ style="fancy"]
Click Here[_/su_spoiler]
[/su_spoiler]
[su_spoiler title="Back & Labels Preview" icon="plus-square-1″ style="fancy"]
[/su_spoiler]
[/su_accordion]