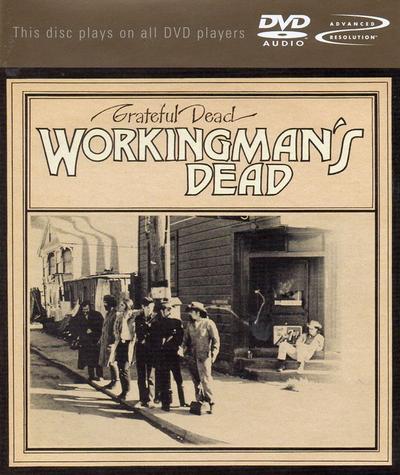 Grateful Dead – Workingman's Dead (1970) [2001, Reissue, DVD-Audio + Hi-Res]
DVD-Audio | ISO | MLP (5.1 & 2.0 / 24bit / 96kHz) | Dolby AC3 (5.1)
Hi-Res | FLAC Tracks / 24bit / 96kHz | Stereo & Multichannel
Full Scans Included
Total Size: 3.65 GB (DVD-A) + 881 MB (DVD-A FLAC Stereo) + 2.34 GB (DVD-A FLAC Mch) | 3% RAR Recovery
Label: Rhino Records | EU | Cat#: 8122–78356-9 | Genre: Folk Rock, Country Rock
As the '60s drew to a close, it was a heavy time for the quickly crumbling hippie movement that had reached its apex just a few years earlier in 1967's Summer of Love. Death and violence were pervasive in the form of the Manson murders, fatalities at the Altamont concert, and the ongoing loss of young lives in Vietnam despite the best efforts of anti-war activists and peace-seeking protesters. Difficult times were also upon the Grateful Dead, unofficial house band of San Francisco's Summer of Love festivities and outspoken advocates of psychedelic experimentation both musical and chemical. The excessive studio experimentation that resulted in their trippy but disorienting third album, Aoxomoxoa, had left the band in considerable debt to their record label, and their stress wasn't helped at all by a drug bust that had members of the band facing jail time. The rough road the Dead were traveling down seemed congruent with the hard changes faced by the youth counterculture that birthed them. Fourth studio album Workingman's Dead reflects both the looming darkness of its time, and the endless hope and openness to possibility that would become emblematic of the Dead as their legacy grew. For a group already established as exploratory free-form rockers of the highest acclaim, Workingman's Dead's eight tunes threw off almost all improvisatory tendencies in favor of spare, thoughtful looks at folk, country, and American roots music with more subdued sounds than the band had managed up until then. The songs also focused more than ever before on singing and vocal harmonies, influenced in no small way by a growing friendship with Crosby, Stills, Nash & Young. The band embraced complex vocal arrangements with campfire-suited folk on "Uncle John's Band" and the psychedelic cowboy blues of "High Time."
Before they blasted off into hallucinatory rock as the Grateful Dead, several founding members had performed as Mother McCree's Uptown Jug Champions, a group that played traditional jug band music with earnest, heartfelt appreciation. Those early influences came into sharp focus on the bluegrass rhythms and hillbilly harmonies of "Cumberland Blues" and the glistening pedal steel and shuffling drums of "Dire Wolf." The more rocking songs add to the album's brooding feel with "New Speedway Boogie" directly addressing the violence at Altamont, and "Casey Jones," which appeared at first to be a lighthearted celebration of cocaine, but was really a lament for troubled times that felt like they were spinning off the rails.
The abrupt shift toward sublime acoustic sounds on Workingman's Dead completely changed what the Grateful Dead meant to their listeners at large. The enormous risk they took in changing their sound entirely resulted in a heartbreakingly beautiful, unquestionably pure statement and one of the more important documents of its time. They'd continue this trend on the even more roots-minded American Beauty, recorded later the same year, but the limitlessness, fearlessness, and true power of the band began here. ― Allmusic
Tracklist
01. Uncle John's Band – 04:45
02. High Time – 05:15
03. Dire Wolf – 03:16
04. New Speedway Boogie – 04:22
05. Cumberland Blues – 03:20
06. Black Peter – 05:44
07. Easy Wind – 04:58
08. Casey Jones – 04:27
———————-
DYNAMIC RANGE
DVD-FLAC-Stereo | DVD-FLAC-Mch
IMAGE GALLERY & INFO
LABELS | DISCOGS
DOWNLOAD FROM
LMA_GrDe.1970.WD.2001_DVDA-FLAC-Mch.rar
LMA_GrDe.1970.WD.2001_DVDA-FLAC-Stereo.rar
LMA_GrDe.1970.WD.2001_DVDA-ISO.rar
———————-
If you encounter broken links or other problem about this publication, please let me know and write your comment below. I will reply and fix as soon as possible.