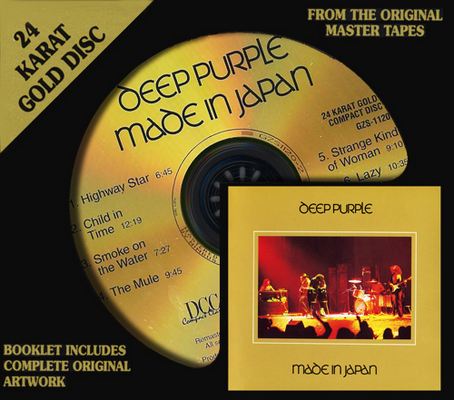 Deep Purple – Made In Japan (1972) (1998, DCC, 24-Karat Gold Disc)
EAC Rip | FLAC Tracks + Cue + Log | Full Scans @400 dpi, JPG, Included
Total Size: 552 MB | 3% RAR Recovery
Label: DCC | Cat#: GZS-1120 | Genre: Hard Rock
Recorded over three nights in August 1972, Deep Purple's Made in Japan was the record that brought the band to headliner status in the U.S. and elsewhere, and it remains a landmark in the history of heavy metal music. Since reorganizing with singer Ian Gillan and bassist Roger Glover in 1969, Deep Purple had recorded three important albums — Deep Purple in Rock, Fireball, and Machine Head — and used the material to build a fierce live show. Made in Japan, its selections drawn from those albums, documented that show, in which songs were drawn out to ten and even nearly 20 minutes with no less intensity, as guitarist Ritchie Blackmore and organist Jon Lord soloed extensively and Gillan sang in a screech that became the envy of all metal bands to follow. The signature song, of course, was "Smoke on the Water," with its memorable riff, which went on to become an American hit single. But those extended workouts, particularly the moody "Child in Time," with Gillan's haunting falsetto wail and Blackmore's amazingly fast playing, and "Space Truckin'," with Lord's organ effects, maintained the onslaught, making this a definitive treatment of the band's catalog and its most impressive album. By stretching out and going to extremes, Deep Purple pushed its music into the kind of deliberate excess that made heavy metal what it became, and their audience recognized the breakthrough, propelling the original double LP into the U.S. Top Ten and sales over a million copies.
Reviewed by Allmusic
Personnel / Credits:
• Ritchie Blackmore – lead guitar
• Ian Gillan – vocals, harmonica (uncredited), percussion (uncredited)
• Roger Glover – bass
• Jon Lord – organ, piano
• Ian Paice – drums
Additional Info:
• Recorded Date: Festival Hall, Osaka, 15 and 16 August 1972 Nippon Budokan, Tokyo, 17 August 1972
• Original Released Date: December 1972 (UK) / April 1973 (US)
• DCC Released Date: 1998
• Producer: Deep Purple
• More info
Tracklist:
1. Highway Star – 06:55
2. Child In Time – 12:32
3. Smoke On The Water – 07:34
4. The Mule – 09:57
5. Strange Kind Of Woman – 09:55
6. Lazy – 10:35
7. Space Truckin' – 19:59
[su_accordion]
[su_spoiler title="EAC Log" icon="plus-square-1″ style="fancy"]
Click Here[/su_spoiler]
[su_spoiler title="CUETools 2.1.5″ icon="plus-square-1″ style="fancy"]
Click Here[/su_spoiler]
[su_spoiler title="Back & CD label" icon="plus-square-1″ style="fancy"]
[/su_spoiler]
[/su_accordion]
DOWNLOAD FROM

LMA_DePu.MIJ.1972.DCC.rar

Password: www.LosslessMA.net

If you encounter broken links or other problem about this publication, please let me know
and write your comment below. I will reply and fix as soon as possible.