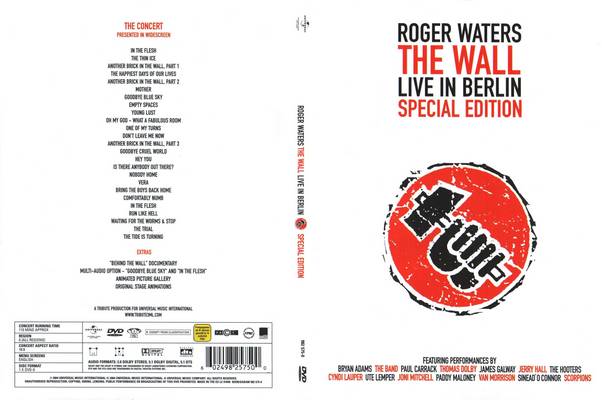 Roger Waters – The Wall Live in Berlin (1990) [2004, Special Edition, DVD]
DVD | PAL 16:9 (720×576) VBR | Dolby Ac-3 5.1 Surround & 2.0 Stereo / DTS 5.1 Surround
Total Size: 7.91 GB | 3% RAR Recovery
Label: Universal Music | Genre: Progressive Rock
The Wall – Live in Berlin was a live concert performance by Roger Waters and numerous guest artists, of the Pink Floyd studio album The Wall, itself largely written by Waters during his time with the band. The show was held in Berlin on 21 July 1990, to commemorate the fall of the Berlin Wall eight months earlier. A live album of the concert was released 21 August 1990. A video of the concert was also commercially released.
Setlist:
01. In The Flesh
02. The Thin Ice
03. Another Brick In The Wall, Pt.1
04. The Happiest Days Of Our Lives
05. Another Brick In The Wall, Pt.2
06. Mother
07. Goodbye Blue Sky
08. Empty Spaces
09. Young Lust
10. Oh My God – What A Fabulous Room
11. One Of My Turns
12. Don't Leave Me Now
13. Another Brick In The Wall, Pt.3
14. Goodbye Cruel World
15. Hey You
16. Is There Anybody Out There?
17. Nobody Home
18. Vera
19. Bring The Boys Back Home
20. Comfortably Numb
21. In The Flesh
22. Run Like Hell
23. Waiting For The Worms & Stop
24. The Trial
25. The Tide Is Turning
Extra Features:
• "Behind the Wall" Documentary
• Multi-Audio Option – "Goodbye Blue Sky" and "In the Flesh"
• Animated Picture Gallery
• Original Stage Animations
———————-
LOGS
DVDINFO
IMAGE GALLERY
SCREENSHOTS
DOWNLOAD FROM
LMA_ROWA.1990.TWLIB.2004.SE.DVD.part1.rar
LMA_ROWA.1990.TWLIB.2004.SE.DVD.part2.rar
LMA_ROWA.1990.TWLIB.2004.SE.DVD.part3.rar
———————-
If you encounter broken links or other problem about this publication, please let me know and write your comment below. I will reply and fix as soon as possible.