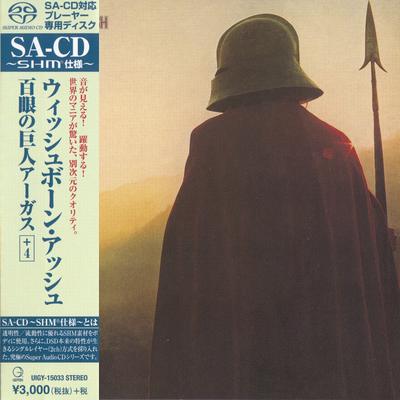 Wishbone Ash – Argus (1972) [2016, Japanese SHM-SACD, Hi-Res SACD Rip]
SACD Rip | ISO / DSD / 1bit / 2.8224MHz | FLAC Tracks / 24bit / 88.2kHz
Single Layer SACD | Full Scans Included
Total Size: 3.26 GB (ISO) + 1.51 GB (FLAC) | 3% RAR Recovery
Label: Universal | Japan | Cat#: UIGY-15033 | Genre: Progressive Rock, Hard Rock
Argus is the third album by the rock band Wishbone Ash. It is the most popular Wishbone Ash album and widely considered their greatest by fans and reviewers. It was named "Album of the Year" in the 1972 year-end issue of Sounds magazine. The album is medieval-themed, featuring a blend of progressive rock, folk, and hard rock, and is considered a landmark album in the progression of twin-lead guitar harmonisation later adopted by bands such as Thin Lizzy and Iron Maiden. The sound engineer on Argus was Martin Birch, who also worked with Deep Purple, later with Black Sabbath, Iron Maiden and other hard rock bands. The bulk of the lyrics were provided by bassist/lead vocalist Martin Turner, although all members are credited with the music and arrangements.
With the success of Argus, the band also became one of the most popular live attractions of the day.
Tracklist
01. Time Was – 09:45
02. Sometime World – 06:56
03. Blowin' Free – 05:20
04. The King Will Come – 07:08
05. Leaf And Stream – 03:56
06. Warrior – 05:55
07. Throw Down The Sword – 05:57
08. No Easy Road – 03:37
09. Jail Bait – 04:56
10. The Pilgrim – 10:09
11. Phoenix – 17:06
———————-
DYNAMIC RANGE
SACD-ISO | SACD-FLAC
INFO
DISCOGS
DOWNLOAD FROM
LMA_WiAs.1972.A.2016_SHM-SACD-FLAC.rar
LMA_WiAs.1972.A.2016_SHM-SACD-ISO.rar
———————-
If you encounter broken links or other problem about this publication, please let me know and write your comment below. I will reply and fix as soon as possible.