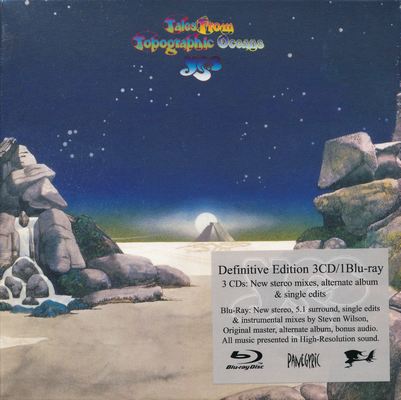 YES – Tales From Topographic Oceans (1973) [2016, Remixed, Deluxe Box, 3CD + Blu-ray + Hi-Res]
EAC Rip | 3x CD | FLAC Image + Cue + Log
Blu-ray | MPEG-4 AVC Video | DTS-HD MA (5.1 & 2.0 / 24bit / 96kHz & 192kHz) | LPCM (5.1 & 2.0 / 24bit / 48kHz & 96kHz)
Hi-Res | FLAC Tracks / 24bit / 48kHz & 96kHz & 192kHz | Stereo & Multichannel
Full Scans Included
Total Size: 1.17 GB (CDs) + 46.7 GB (BD) + 15.7 GB (Hi-Res) + 324MB (Scans) | 3% RAR Recovery
Label: Panegyric | EU | Cat#: GYRBD80001 | Genre: Progressive Rock
Three CD + All Region Blu-ray edition. Tales From Topographic Oceans is the fifth in a series of remixed and expanded Yes classics. The album has been mixed for 5. 1 Surround Sound from the original studio masters by Steven Wilson and is fully approved by Yes. CDs feature a completely new stereo album mix by Steven Wilson. CDs also feature an alternate extended "Dance of the Dawn" newly mixed from multi-track by Steven Wilson and five single edits. CDs feature a complete alternate album including "High The Memory" (unreleased studio run-through) and "Ritual" (live in Zurich, April 1974) with fully restored audio from original sources. Blu-ray features: 5. 1 PCM Surround Sound (24bit/96khz) and in DTS-HD MA 5. 1 (24bit/96khz). Hi-res (24bit/96khz) 2016 stereo mix. Original album mix in a hi-res flat transfer from an original stereo master tape source (24bit/192khz). We believe this is the earliest master of the original mix to be issued in the digital era. 2016 mix of "Dance of the Dawn" in stereo & 5. 1 surround sound plus five single edits (stereo) all mixed from multi-track by Steven Wilson, (24bit/96khz). Full album instrumental mixes by Steven Wilson, (24bit/96khz). Full alternate album featuring sides 1 and 3 from the 2003 Rhino CD, previously unreleased studio run-through of Side 2 (audio restored from source tape) and previously unreleased live (audio restored/enhanced mono) version of Side 4. Audio curios: full album needle-drops of an original UK vinyl pressing and US banded promo pressing. Original Roger Dean artwork expanded and restored with material from the Roger Dean archive and prepared with full approval of the artist. Presented in two mini-vinyl replica gatefold sleeves in a slipcase with booklet featuring new sleeve-notes by writer Sid Smith including elements of new interviews with Jon Anderson, Steve Howe and Alan White along with rare photos and archive material.― Amazon
CD 1 – 2016 Stereo Mixes
1. The Revealing Science Of God (Dance Of The Dawn) – 20:18
2. The Remembering (High The Memory) – 20:31
3. The Ancient (Giants Under The Sun) – 18:40
CD 2 – 2016 Stereo Mixes
1. Ritual (Nous Sommes Du Soleil) – 21:44
2. Dance Of The Dawn (2016 Mix) – 22:36
3. Dance Of The Dawn (Studio Run-Through) – 22:22
CD 3 – 2016 Stereo Mixes
1. High The Memory (Studio Run-Through) – 20:35
2. Giants Under The Sun (Studio Run-Through) – 17:17
3. Ritual (Live, Zurich, April 1974) – 23:10
4. The Revealing Science Of God (Single Edit) – 03:54
5. The Remembering (Single Edit) – 02:50
6. The Ancient (Single Edit) – 03:25
7. Ritual (Single Edit I) – 04:20
8. Ritual (Single Edit II) – 03:46
Blu-ray
• 5.1 DTS-HD Master Audio Surround (24bit/96khz) mixed from the original multi-channel recordings.
• The new stereo album mix in DTS-HD Master Audio (24bit/96khz).
• The original album mix in a DTS-HD Master Audio flat transfers from the original master tape source. (24bit/192khz). We believe this is the earliest master of the original mix to be issued in the digital era. (This master was also used for the original stereo on the CDs).
• Full alt. album featuring: sides 1 and 3 from the 2003 Rhino CD, previously unreleased studio run-through of Side 2 and previously unreleased live version of Side 4.
• Exclusive needle-drop of an original UK vinyl pressing transferred in 24bit/96khz audio and US branded promo pressing.
• Exclusive instrumental versions of all new mixes in DTS-HD Master Audio stereo (24bit/96khz).
• 2016 stereo and 5.1 remix of Dance of the Dawn plus 5 single edits (stereo only) all mixed from multi-track by Steven Wilson.
———————-
LOGS
EAC | CUETOOLS | BDINFO | HI-RES DYNAMIC RANGE
INFO
BD SCREENSHOTS | DISCOGS
DOWNLOAD FROM
LMA_YES.1972.TFTO.2016.DDEE
———————-
If you encounter broken links or other problem about this publication, please let me know and write your comment below. I will reply and fix as soon as possible.