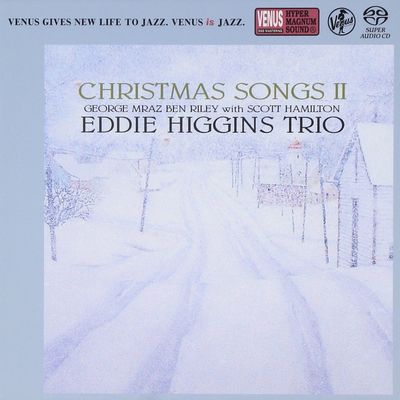 Eddie Higgins Trio – Christmas Songs II (2014) [Hi-Res SACD Rip]
SACD-ISO / DSD / 1bit / 2.8224MHz
FLAC Tracks / 24bit / 88.2kHz
Total Size: 0.98 GB (FLAC) + 2.19 GB (ISO) | 3% RAR Recovery
Label: Venus Records | Japan | Cat#: VHGD-47 | Genre: Easy Listening, Jazz, Christmas
Christmas Songs II is the second Christmas album by pianist Eddie Higgins for the Venus Records label. Higgins, who originally hails from Chicago and now lives in Florida, is somewhat obscure in the US but he is extremely popular in Japan due in part to the success of his many Venus releases over the past decade.
Higgins performs the classic Christmas songs on Christmas Songs II with considerable flavor and style, spicing them up with subtle harmonies and a sense of rhythm. Higgins is joined on this release by Scott Hamilton on tenor sax, Ben Riley on drums, and George Mraz on bass.
A solid bop-based pianist, Eddie Higgins has been well respected by his fellow musicians for decades. After growing up in New England, he moved to Chicago, where he played in all types of situations before settling into a long stint as the leader of the house trio at the London House (1957-1969). Higgins moved back to Massachusetts in 1970 and went on to freelance, often accompanying his wife, vocalist Meredith D'Ambrosio, and appearing at jazz parties.
Tracklist
01. Joy To The World – 04:12
02. The First Noel – 05:35
03. It Came Upon A Midnight – 04:04
04. O Come, O Come, Emmanuel – 04:02
05. Good King Wenceslas – 03:24
06. We Three Kings Of Orient Are – 04:30
07. We Wish You A Merry Christmas – 03:29
08. Hark! The Herald Angels Sing – 03:45
09. Winter Dreams – 04:58
10. The Little Drummer Boy – 02:56
11. Silent Night – 05:40
12. Jingle Bells – 06:29
———————-
DYNAMIC RANGE
SACD-ISO | SACD-FLAC
DOWNLOAD FROM
LMA_EHT.2014.CSII_SACD-FLAC.rar
LMA_EHT.2014.CSII_SACD-ISO.rar
———————-
If you encounter broken links or other problem about this publication, please let me know and write your comment below. I will reply and fix as soon as possible.