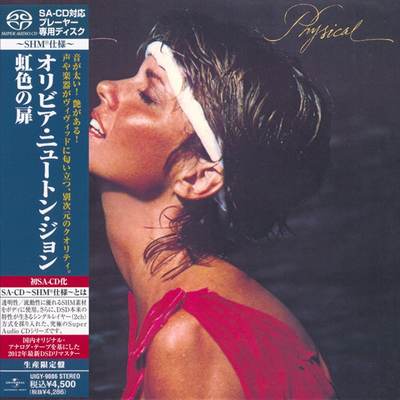 Olivia Newton-John – Physical (1981) [2012, Japanese SHM-SACD, Hi-Res SACD Rip]
SACD Rip | ISO / DSD / 1bit / 2.8224MHz | FLAC Tracks / 24bit / 88.2kHz
Single Layer SACD | Full Scans Included
Total Size: 1.55 GB (ISO) + 735 MB (FLAC) | 3% RAR Recovery
Label: Universal | Japan | Cat#: UIGY-9086 | Genre: Pop
Physical is the ninth full-length studio album by the British-Australian-American singer Olivia Newton-John, released on 13 October 1981 by MCA Records. The album was produced and partly written by her long-time record producer John Farrar. Recorded and mixed at David J. Holman's studio in Hollywood, California, Physical became one of Newton-John's most controversial and sexual records, and her most successful studio album to date. Musically, the album features considerable use of synthesizers, and it explores lyrical themes such as love and relationships, sex, kinesthetics, and environmental protection. Upon its release, the album received generally positive reviews from music critics, many of them considering it to be Newton-John's best work. The album charted high in several countries, including the United States, Japan, and Newton-John's native Australia, becoming one of the most successful albums of the early 1980s. It also ranks among the best-selling albums by Australian solo artists, selling more than 3 million copies worldwide.
Tracklist
01. Landslide – 04:24
02. Stranger's Touch – 03:49
03. Make A Move On Me – 03:19
04. Falling – 03:46
05. Love Makes Me Strong – 03:11
06. Physical – 03:45
07. Silvery Rain – 03:40
08. Carried Away – 03:42
09. Recovery – 04:20
10. The Promise (The Dolphin Song) – 04:32
———————-
DYNAMIC RANGE
ISO | FLAC
INFO
DISCOGS
DOWNLOAD FROM
LMA_ONJ.1981.P.2012_SHM-SACD-FLAC.rar
LMA_ONJ.1981.P.2012_SHM-SACD-ISO.rar
———————-
If you encounter broken links or other problem about this publication, please let me know and write your comment below. I will reply and fix as soon as possible.