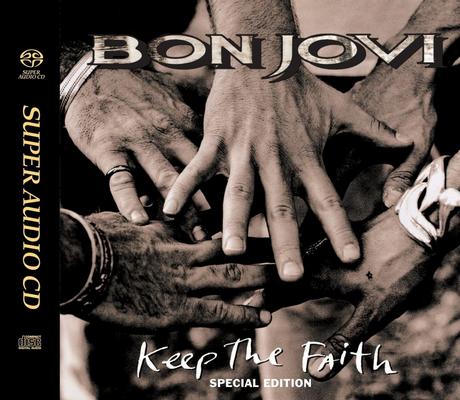 Bon Jovi – Keep The Faith (1992) [2017, Special Edition, Hi-Res SACD Rip]
SACD Rip | ISO / DSD / 1bit / 2.8224MHz | FLAC Tracks / 24bit / 88.2kHz
Hybrid SACD | Full Scans Included
Total Size: 3.15 GB (ISO) + 1.50 GB (FLAC) | 3% RAR Recovery
Label: Universal Music Hong Kong | Japan | Cat#: 5378891 | Genre: Hard Rock
Keep the Faith is the fifth studio album by American rock band Bon Jovi, released on November 3, 1992 by Mercury Records. It is the last album to feature original bass guitarist Alec John Such, before his dismissal from the band in 1994. It is Bon Jovi's first album since 1985's 7800° Fahrenheit not to be produced by Bruce Fairbairn. It was also their first album to have a title track. The album was produced by Bob Rock and was recorded at the Little Mountain Sound Studios in Vancouver, Canada. Keep the Faith represents the beginning of a new chapter in the history of Bon Jovi, marking a change of both the band's image and sound. Moving away from their early glam metal roots in previous albums, it introduced a more "rock n roll" driven groove to Bon Jovi's sound. The album turned away from heavy drums and wild guitar solos, but instead introduced a new sound of Bon Jovi which consisted of piano ballads and long epic guitar solos.
Tracklist:
01. I Believe – 05:48
02. Keep The Faith – 05:47
03. I'll Sleep When I'm Dead – 04:43
04. In These Arms – 05:19
05. Bed Of Roses – 06:35
06. If I Was Your Mother – 04:27
07. Dry County – 09:52
08. Woman In Love – 03:49
09. Fear – 03:07
10. I Want You – 05:37
11. Blame It On The Love Of Rock & Roll – 04:24
12. Little Bit Of Soul – 05:49
Bonus Tracks
13. Keep The Faith (Live Version) – 07:57
14. I'll Sleep When I'm Dead (Live Version) – 05:22
———————-
INFO
DISCOGS
DOWNLOAD FROM
LMA_BoJo.1992.KTF.2017.SE_SACD
———————-
If you encounter broken links or other problem about this publication, please let me know and write your comment below. I will reply and fix as soon as possible.