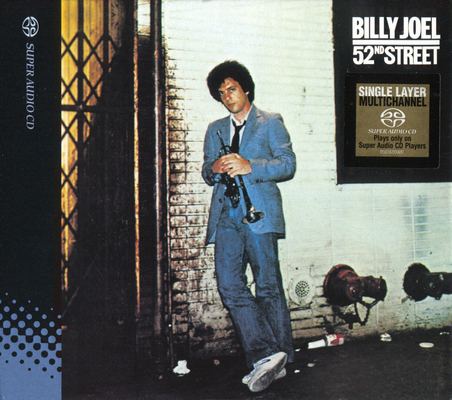 Billy Joel – 52nd Street (1978) [1998, Remastered, Hi-Res SACD Rip]
PS3 SACD Rip | ISO @1bit/2.8224MHz, DSD64 | FLAC Tracks @24bit/88.2kHz | Stereo & Multichannel | Full Scans Included
Total Size: 3.03 GB (ISO) + 2.31 GB (FLAC Multichannel) + 743 MB (FLAC Stereo) | 3% RAR Recovery
Label: Columbia | USA | Cat#: 491185 6 | Genre: Pop Rock
52nd Street is the sixth studio album by American singer-songwriter Billy Joel, released in 1978. It was the first of four Joel albums to top the Billboard charts, and it earned him two Grammys. Three songs reached the Top 40 in the United States, contributing to the album's success: "My Life" (#3), "Big Shot" (#14), and "Honesty" (#24). It was similarly well received by critics, earning the 1979 Grammy for Album of the Year.[2] This Grammy was presented to its producer, Phil Ramone. Upon Ramone's death, 52nd Street's Album of the Year Grammy was passed on to Joel.
The title is a reference to 52nd Street, which was one of New York City's jazz centers in the middle of the century. Joel's label was headquartered on 52nd Street (in the CBS Building) at the time of the album's release. The studio where recording took place was also on 52nd Street, a block away from the CBS Building.
Tracklist:
01. Big Shot – 04:03
02. Honesty – 03:54
03. My Life – 04:44
04. Zanzibar – 05:13
05. Stiletto – 04:42
06. Rosalinda's Eyes – 04:42
07. Half A Mile Away – 04:09
08. Until The Night – 06:34
09. 52nd Street – 02:30
———————-
INFO
DISCOGS
DOWNLOAD FROM
LMA_BiJo.1978.52ndS.1998.R_SACD
———————-
If you encounter broken links or other problem about this publication, please let me know and write your comment below. I will reply and fix as soon as possible.