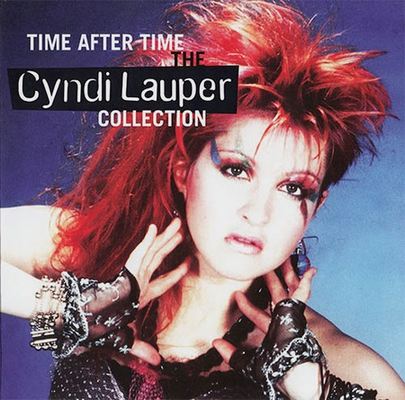 Cyndi Lauper – Time After Time: The Cyndi Lauper Collection (2009)
EAC Rip | FLAC Tracks + Cue + Log | Full Scans @300 dpi, PNG, Included
Total Size: 537 MB | 3% RAR Recovery
Label: Sony Music | Cat#: 88697519772 | Genre: Pop Rock
Cyndi Lauper was one of the biggest stars of the early MTV era, selling five million copies of her debut album, She's So Unusual, as well as scoring a string of four Top Ten hits from the record, including the major hits "Girls Just Want to Have Fun" and "Time After Time." Lauper's thin, girlish voice and gleefully ragtag appearance became one of the most distinctive images of the early '80s, which helped lead her not only to the top of the charts, but also to stardom. Throughout America, there were numbers of teenage girls dressing like Lauper and using "Girls Just Want to Have Fun" as an anthem, a call to arms for self-expression. At first, her music was a bright, colorful new wave fusion of a number of styles, including new wave, post-punk, reggae, pop, and funk. Both her music and her appearance helped popularize — and just as importantly, sanitize — the image of punk and new wave for America, making it an acceptable part of the pop landscape. Lauper didn't follow through on the success of her debut, choosing to turn toward middle-of-the-road balladry and mainstream pop, but her first album remains a benchmark of the early '80s.
Reviewed by Allmusic
Additional Info:
• Released Date: May 11, 2009
Tracklist:
01. Girls Just Want To Have Fun – 03:57
02. Time After Time – 04:01
03. True Colors – 03:47
04. I Drove All Night – 04:13
05. The World Is Stone – 04:26
06. I'm Gonna Be Strong – 03:50
07. Money Changes Everything – 05:03
08. She Bop – 03:44
09. All Through The Night – 04:30
10. Change Of Heart – 04:24
11. What's Going On – 03:51
12. Who Let In The Rain – 04:35
13. That's What I Think – 04:19
14. Come On Home – 04:38
DOWNLOAD FROM

LMA_CL.TAT.TCLC.2009.rar

Password: www.LosslessMA.net

If you encounter broken links or other problem about this publication, please let me know
and write your comment below. I will reply and fix as soon as possible.