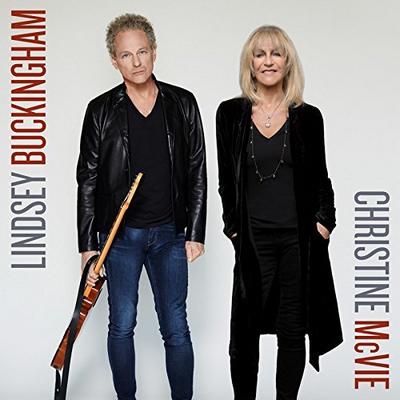 Lindsey Buckingham & Christine McVie – Lindsey Buckingham Christine McVie (2017)
[CD-Quality + Hi-Res Vinyl Rip]
Vinyl Rip | Hi-Res / FLAC Tracks / 24bit / 96kHz | CD-Format / FLAC Tracks / 16bit / 44.1kHz
Full Scans Included
Total Size: 1 GB (Hi-Res) + 401 MB (CD-Format) | 3% RAR Recovery
Label: Warner Music | EU | Cat#: R1-560943 | Genre: Pop Rock
Christine McVie rejoined Fleetwood Mac in 2013 after a 16-year absence. In the aftermath, the classic Rumours quintet — McVie, Lindsey Buckingham, Stevie Nicks, John McVie, and Mick Fleetwood — were readying the ground to record for the first time since 1987. Nicks, however, despite public affirmations that she was on board, bailed to pursue her solo work, creating the kind of melodrama that has made Fleetwood Mac one of pop's most dysfunctional outfits. . Buckingham and McVie had already written songs for the band project — together and separately — and decided to complete the record anyway with the rhythm section. Four-fifths of Fleetwood Mac albums have appeared before to very mixed results. While this set falls prey to that a bit given Nicks' absence, the end result remains quite positive and, with more time, this version of the band could continue with great success.
The set commences with three absolute knockouts. Buckingham's opener "Sleeping Around the Corner" first appeared as a bonus track on his Seeds We Sow, but this rework is better; it's steeped in the melodic signature he's so effectively employed with Fleetwood Mac as traces of early rock harmonies are wed to slightly wonky rhythm and keyboard charts, joined to a killer new bridge and refrain. It's followed by "Feel About You," one of the pair's three co-writes. Framed by a marimba and John McVie's bassline, its Caribbean flavor is offset by a doo wop-esque lyric line behind Christine's breezy vocal — that still offers more than a hint of ache in its grain. Buckingham's "In My World" combines Tusk's production flare with the breathy call-and-response vocal moans from Tango in the Night's "Big Love." The glorious sun-kissed pop of McVie's "Red Sun" is gorgeously crafted. It contains a stacked vocal hook that makes us forget about Nicks altogether. Buckingham's "Love Is Here to Stay" sounds more like something off one of his solo albums, but it's a gorgeous song and the interplay of voices in the backdrop embraces the whole band. The jointly composed "Too Far Gone" is a funky, love-it-or-hate-it track. Its big funky riff stands at odds with McVie's vocal. But more than this, it contains Buckingham's maddening trademark production excess that employs big tribal drum breakdowns that disrupt everything. Likewise, McVie's "Game of Pretend" is a syrupy and uncharacteristically clumsy ballad that drags on far longer than it should and feels like filler. Her closer, "Carnival Begins," is far more successful. It's mercurial, dreamy, and actually recalls the Bob Welch-era Fleetwood Mac that delivered "Mystified." Buckingham's screaming guitar break at the end, however, reconciles it to the band's current sonic sphere. While Lindsey Buckingham/Christine McVie isn't perfect — and it was smart not to bill this effort as a Fleetwood Mac record — it's far better than expected, and indeed, they should have made it happen long ago. While you can never tell what might happen with this crew, one can only hope that this pair teams up again soon. ― Allmusic
Tracklist
Side A
01. Sleeping Around the Corner – 03:48
02. Feel About You – 03:28
03. In My World – 04:25
04. Red Sun – 03:15
05. Love Is Here to Stay – 04:25
Side B
06. Too Far Gone – 03:21
07. Lay Down for Free – 03:56
08. Game of Pretend – 04:34
09. On with the Show – 03:47
10. Carnival Begin – 04:40
———————-
INFO
DISCOGS
DOWNLOAD FROM
CD-Quality
LMA_LBCM.2017.LBCM_LP_16-44.rar
Hi-Res
LMA_LBCM.2017.LBCM_LP_24-96.rar
———————-
If you encounter broken links or other problem about this publication, please let me know and write your comment below. I will reply and fix as soon as possible.