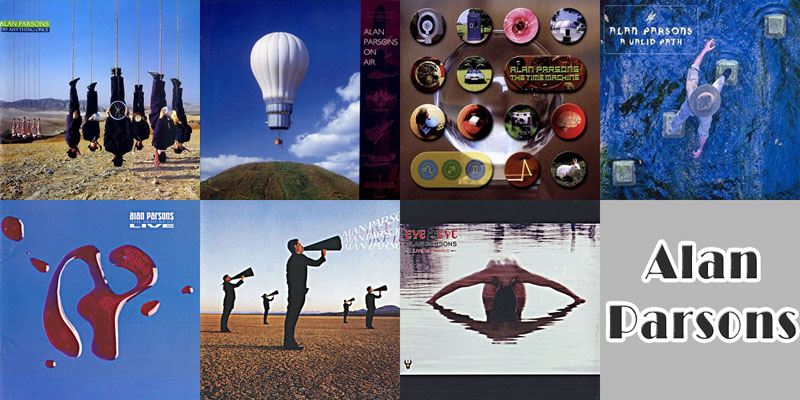 Alan Parsons – Studio, Live & Compilation Albums (1993 – 2010)
EAC Rip | 10xCD | FLAC Image + Cue + Log | Full Scans Included
Total Size: 6.84 GB | 3% RAR Recovery
Label: Various | Genre: Progressive Rock
As indicated by its name, the Alan Parsons Project was not a band so much as a concept overseen by the titular Parsons, a successful producer and engineer. Born in Britain on December 20, 1948, he began his musical career as a staff engineer at EMI Studios, and first garnered significant industry exposure via his work on the Beatles' 1969 masterpiece, Abbey Road. Parsons subsequently worked with Paul McCartney on several of Wings' earliest albums; he also oversaw recordings from Al Stewart, Cockney Rebel, and Pilot, but solidified his reputation by working on Pink Floyd's Dark Side of the Moon.
Influenced by his work on Stewart's concept album Time Passages, Parsons decided to begin creating his own thematic records; along with songwriter Eric Woolfson, he soon founded the Alan Parsons Project. Although Parsons played keyboards and infrequently sang on his records, the Project was designed primarily as a forum for a revolving collection of vocalists and session players — among them Arthur Brown, ex-Zombie Colin Blunstone, Cockney Rebel's Steve Harley, the Hollies' Allan Clarke, and guitarist Ian Bairnson — to interpret and perform Parsons and Woolfson's conceptually linked, lushly synthesized music.
the Project debuted in 1975 with Tales of Mystery and Imagination, a collection inspired by the work of Edgar Allan Poe; similarly, the science fiction of Isaac Asimov served as the raw material for 1977's follow-up, I Robot. With 1980's The Turn of a Friendly Card, a meditation on gambling, the Alan Parsons Project scored a Top 20 hit, "Games People Play"; 1982's Eye in the Sky was the Project's most successful effort, and notched a Top Three hit with its title track. While 1984's Ammonia Avenue went gold, the Project's subsequent LPs earned little notice, although records like 1985's Vulture Culture, 1987's Gaudi, and 1996's On Air found favor with longtime fans. Time Machine followed in 1999. After taking a five-year hiatus, Parsons returned in 2004 with A Valid Path. ~ Allmusic
1. STUDIO:
1993. Try Anything Once (1993, BMG Arista, 07822-18741-2, USA)
1993. Try Anything Once (1993, BMG Arista, 74321167302, W.Germany)
1996. On Air (1996. CNR Music, 530 00 99, Germany, Limited Edition)
1999. The Time Machine (1999, CNR Music, 2004320, Spain)
1999. The Time Machine (1999, Miramar, 09006-23146-2, USA)
2004. A Valid Path (2004, Artemis RecordsATM-CD-51562, USA)
2004. A Valid Path (2004, Eagle Records, EAGCD221, Germany)

2. LIVE & COMPILATION:
1995. The Very Best Live (1995. BMG Music, 09026-68229-2, USA)
2003. Alan Parsons Live (2003, TX2, TXT 870039-2, EU)
2010. Eye 2 Eye – Live In Madrid (2010 – Frontiers Records, FR CD 451, Italy)

———————-
DOWNLOAD FROM
LMA_AlPa.D_Discography
———————-
If you encounter broken links or other problem about this publication, please let me know and write your comment below. I will reply and fix as soon as possible.